Question:
How to trace a fake phone number and find out who is behind a spoofed number calling me?
Spoofed phone calls or fake phone number calls are where the caller's identity is not displayed or is false. If you get such a call, this rings a bell. A spoofed call can be an innocent telemarketer call, but sometimes the cases for fake calls are more mischievous. In such cases, perpetrators can choose what number they want to appear on the receiver's device and even change how their voice sounds or to mimic specific numbers to pretend to be somebody the receiver may communicate with. In order to take precautions against the risk of privacy leak, tracing a spoofed phone number is essential to gather evidence towards ending spoofing. Here we discuss some useful solutions on how to trace a spoofed phone number.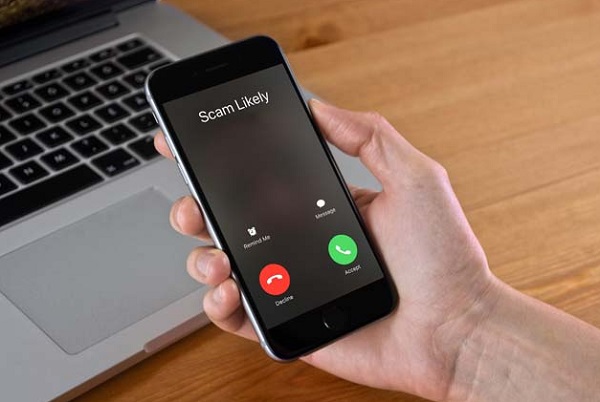 Method 1: Google the Spoofed Phone Number
A basic Google search is precisely our first response to track spoofed phone number. Because Google will gather people's information constantly and if the phone number has been crawled by it, there may be chances to find its source, name, email or other personal information. If the suspicious number gets any results, then cross-referencing will help you to reach the scammer. Especially if the scammer claims to be from the company and spoofing its number, this can take you closer to identify the caller credentials and make an effort to trace him.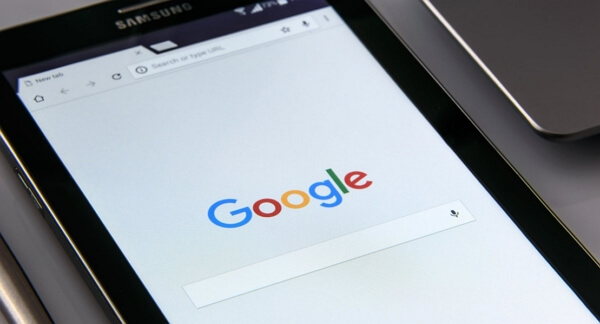 Tracing a Spoofed Phone Number using Google is Good for:
Foolproof and free way to trace a spoofed phone number.

Investigate the said companies or other sources mentioned in a spoof number in an attempt to see if any respond with helpful information.

Gather comprehensive information from lots of databases whether it is a satellite call or a landline or a voice over IP phone.
Method 2: Do a Reverse Phone Number Lookup
Reverse phone number lookup is quite easy to track spoofed phone number and can be done very conveniently online. There are a lot of online websites that offer reverse number lookup such as Whitepages or Truecaller. You can trace a fake phone number to find the caller's state, mobile carrier and more personal data with this type of search. However, free reverse lookup services provide limited data, and sometimes you have to pay to get more details. Overall, this service of tracing a spoofed phone number is available for satellite, Voice Over IP numbers, satellite numbers, and landlines.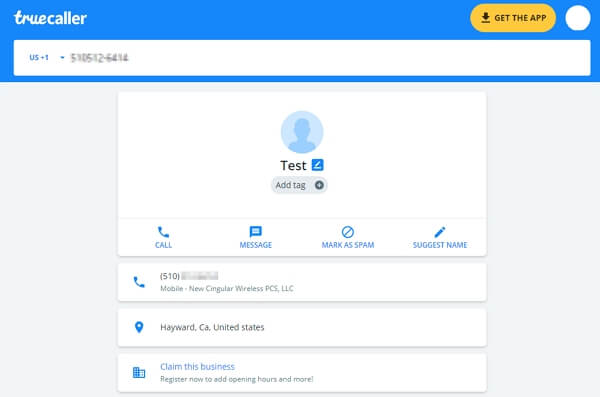 Using Reverse Phone Number Lookup to Track a Spoofed Phone Number is Good for:
Has a large database of the phone numbers over the globe which makes the search easy and fast.

Key in the spoof phone number you want to track and all the details along with the phone owner location would be displayed on the screen in paid version.

Can be used to block or mark as spam of a fake phone number.
You may be interested in: How to Check Call History of Any Mobile Number
Method 3: Contact Your Telecom Provider to Track Fake Number
Suppose you are convinced that you are being spoofed and harassed, or any private, legal or financial information is compromised because of any spoof call. In that case, you should immediately contact your telecom provider and police. Your telecom company is the most reliable solution to how can spoof calls be traced and have more access to secure data; therefore, they are usually better positioned to trace a spoofed phone number. Though this is a time-consuming process with some legal support on your back, you can get the work done in severe circumstances.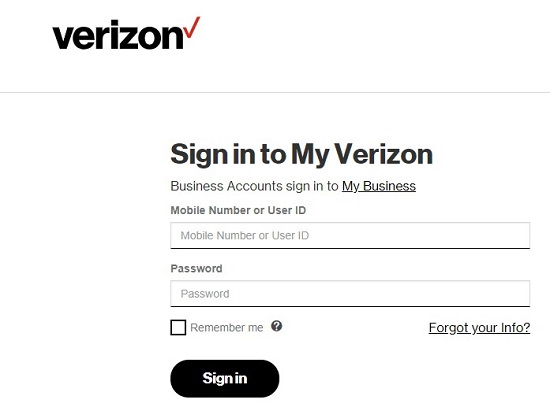 Resorting Telecom Provider to Track a Spoofed Phone Number is Good for:
Legitimate way of tracing a spoofed phone number.

Get your money back if the scammers were being caught.
Method 4: Use a Who Called Me App
If you don't want to trace a fake phone number with opening the browser evereytime, there are a variety of who called me apps available. They works well on different platforms like Android annd iPhone. Once you receive a call, these applications are able to track spoofed phone number from all over the world. The city area, state, country and service operator of the phone number will be displayed on a geographic map.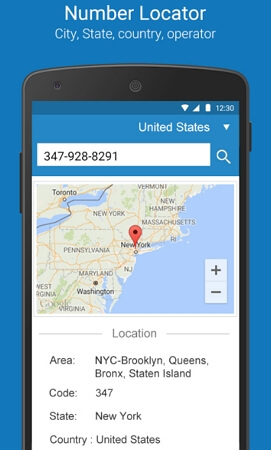 Tracing a Spoofed Phone Number using Who Called Me App is Good for:
Once installed, the caller information will be displayed directly on the screen when a spoof phone number comes in.

Track a fake number abuser location on a Google map.

Offer both online and offline mode which is pretty convenient.
Frequently Asked Questions about How to Track Spoofed Number
Here we also listed some common FAQs in case you have any problem.
1. How to tell if a phone number is spoofed?
You got a text or call and didn't know who it is. There are also chances that you you received a phone call in which the caller ID displays the legitimate number of a local business or someone from your neighborhood, but he is not who you were expecting.
2. What to do when I receive spoof calls or texts?
First, you should not answer the spoof calls or texts. If you pick up the phone, never answer any questions, especially those that can be answered with "Yes" or "No." The most important thing is don't tell them your bank information and personal data. If you decide to trace a fake phone number, check the methods mentioned in this article.
3. How to trace a spoofed phone number?
First, you can google the phone number and then cross-reference it to reach its actual owner. You can also do a reverse phone number lookup. If you are sure that you have got a suspicious call and some ill intention, then make sure that you contact your telecom provider. Who called me apps are also available for many phone platforms.
You can also check out this article of 5 must-know tips about spoof call and caller ID spoofing
Also Read: How to Track Phone Number Online Effectively
In general, when speaking of tracing a phone number, we're talking about mobile phone location tracking. An effevtive way to truly accomplish this is to download a third-party location tracking app to know about the whereablouts of your loved ones, be it your families or employees. KidsGuard Pro is one of the most widely used mobile phone trackers in the market. It has millions of users spread all over the world and KidsGuard Pro is designed to work well for all Android and iOS devices.
How Does KindsGuard Pro Help You in Cell Phone Tracking
It can track real-time location of a cell phone.

It offers accurate indoor and outdoor location details.

You can view the phone's movements on a virtual map and check details like street info, timestamp, etc.

You can set up a Geofence, which alerts you when the target phone visited and left that certain area.

You can monitor someone's call logs and record live phone call conversation remotely.

It also features in remote control portal, you can use it from any web browser on any device.

This phone location tracker is 100% hidden on the target phone, so it's impossible to detect!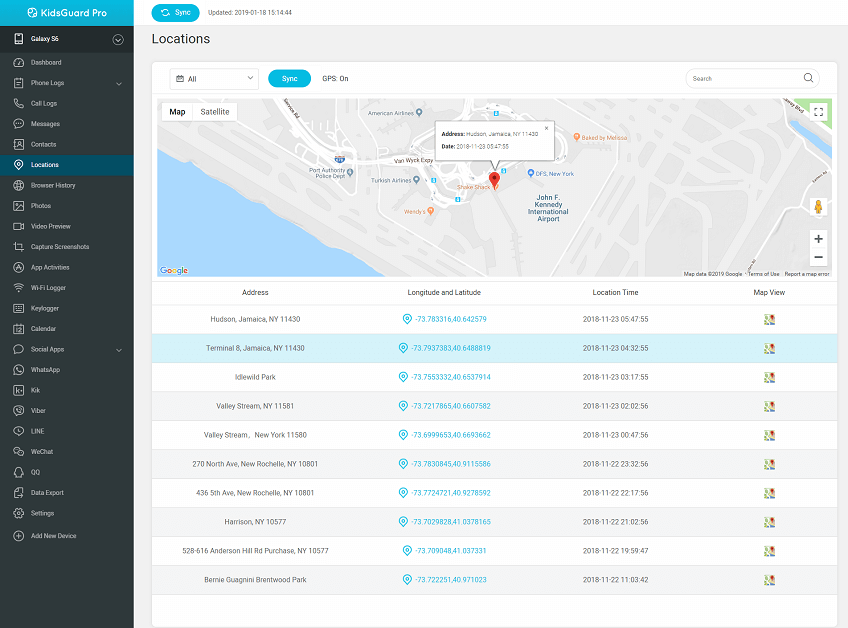 KidsGuard Pro is equipped with 30+ tracking capabilities and it is an easy to use application that even the most novice users can use. A quick glance through KidsGuard Pro's free demo can give a clearer idea about it.
Conclusion
Tracing a spoofed phone number is not an easy task. Some legal issues and privacy rights considerations make it a rather complicated problem. We have discussed 4 feasible ways to track the spoofed phone number. However, it should be noted that no method is a silver bullet. So, like many other issues happening around is, being proactive is the call of the day. Leave your comments if you have any problem.