Every person would want to know if their family and loved ones are safe and sound. Whether it is your friend, your spouse or any member of your family, sometimes it becomes important to know their whereabouts. This way, in case of any emergency, you can reach out to them much faster. The location sharing apps makes this very easy and convenient.
Instead of typing your location and sending it through a message to your friends and family, using location sharing apps you can quickly send your exact location with just one click. In this article we have come up with a few location sharing apps which eliminates the ordeal of explaining complicated locations to your friends. These applications also prove to be very beneficial in case your phone gets lost or stolen as you can track it down and gain access again. So let's get started.
Kidsguard Pro is an excellent parental control application which can share location between you and your kids. This application has inbuilt GPS and Wi-Fi logger features which helps in tracking the real-time location of your child. Besides, you can check all the location history and know where the kid has been. What else you can expect from KidsGuard Pro includes viewing the incoming and outgoing calls, messages, contacts, calendar, notes, videos, photos and social media on the target device. You can even take an instant screenshot on the target phone to know what the kid is doing now on their device. In a word, this app is a very effective tool to watch over your kids' locations and activitiesand keep them safe.
The only drawback which this application has is that not all the friends and family can access the real time location and the location history of the target phone.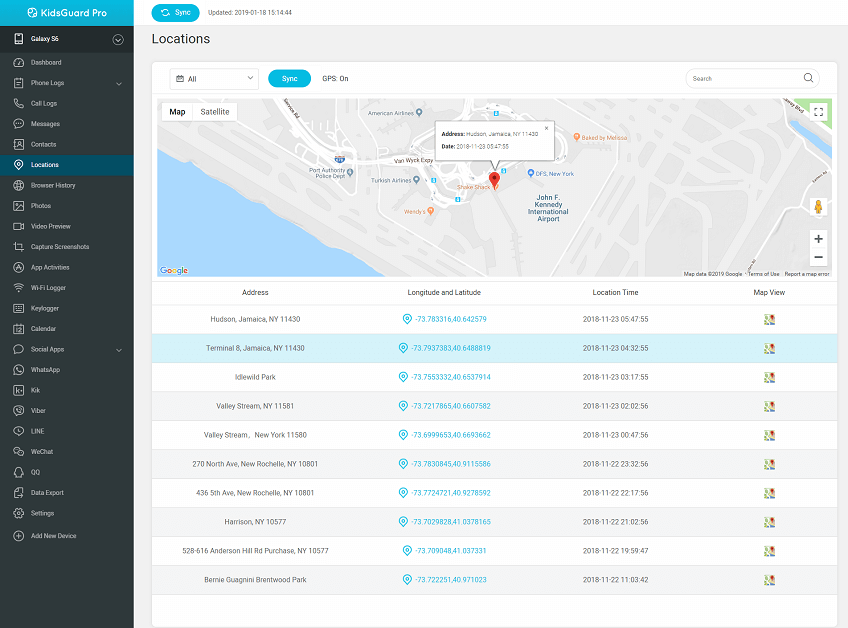 Compatibility: Android & iOS
Price: Up to $29.95 per month and the lowest price is $8 per month.
Notice
Now you can have a 30% off discount to enjoy all the premium features. Quickly to enjoy the best price for your need.
2. Find My Friends App for Android
This is a premium real time location sharing app which lets you find and locate your friends on a map. You can even share your location with them through this application. This application also has a portal where you can chat with your friends as well. This acts as a great way to keep in touch with your friends and keep them informed about your location information. If you are meeting each other, you share the location of the place to meet to cut the time involved in searching for the place. Once you install this app, it lets you communicate with and locate the people who matter to you the most. Each person using this app will have their own personalized icon which will appear on the map in this app through which you can get real time location.
Even though this application is great for location sharing with friends, this application can be easily hacked and strangers can get to know your location. When you download this app you might even start getting requests from unknown or unwanted people. You can reject it, but it becomes a little annoying to keep doing that.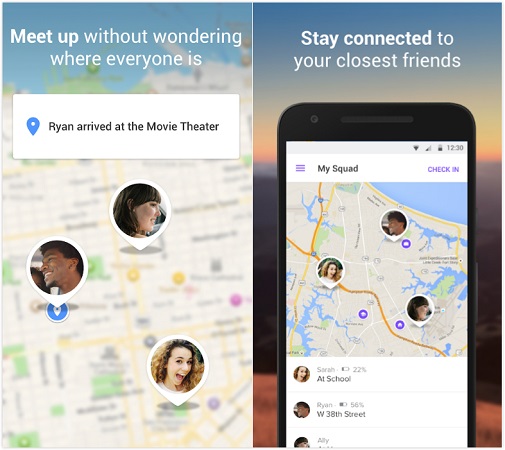 Compatibility: Android phones and tablets
Price: The basic version is free but it does have in-app purchases which goes upto $0.99.
3. Glympse App
Glympse is an excellent app to share location with friends, family and coworkers in a secure way. You no more need to keep asking answering "Where are you?", all you have to do is download this application and share the real time location. You can just share the location and estimated time of arrival to your parents, you can request the location of a coworker if they are running late, and Glympse is an excellent app which makes all this possible. You can even make use of the public tags in this app to keep sharing location all along your way during events like racing.
The downfall to downloading this application is that it sometimes hangs and does not instantly update the real time location.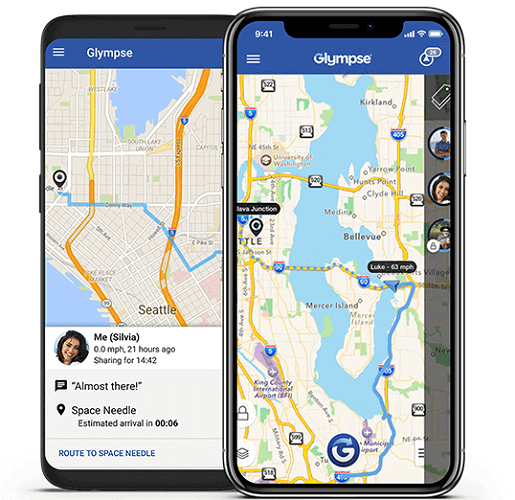 Compatibility: Android and iOS phones and tablets
Price: Free
4. Life360 App
Life360 application keeps families and friends together and connected no matter what the situation is. You no more need to endlessly send texts to your kids, family members or friends asking for their location. With the help of this application, an automatic message is sent with the current real-time location when requested. Only the people whom you invite can have access to the location sharing information. You can group chat as well as private chat with any one particular family member or friend.
This location sharing apps for Android and iOS devices has been reported to be a bit inaccurate sometimes.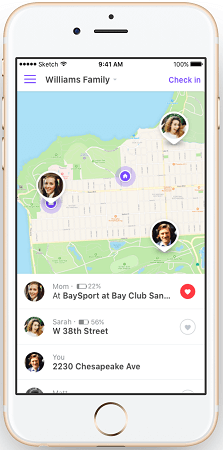 Compatibility: Android and iOS phones and tablets
Price: Free
5. ADT Go App
Want to instantly know when your family member or a friend goes to a particular place? This application can be ideal. You get alerted and notified whenever your family members move from one place to other. This provides an easy way to locate all your family members. If you are in a new place, this app also gives the information about the crime activity in the area by collecting the local crime data. Other features in-built in this app include safe driving reports, road assistance, crash response and detection, emergency response, SOS and so much more.
The major drawback of this application is that it tends to crash regularly and it drains out the phone battery faster as well.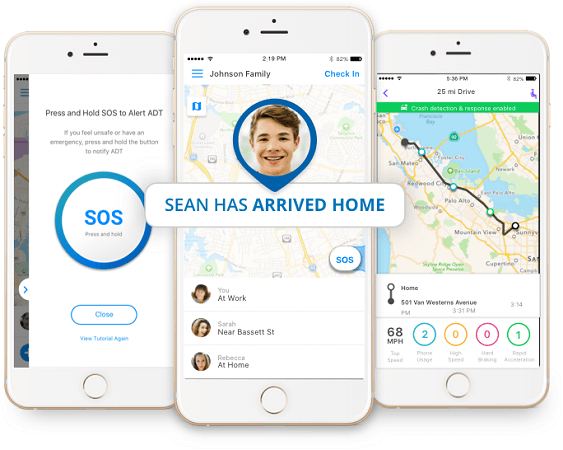 Compatibility: Android and iOS phones and tablets
Price: Free
6. Konum App
Through this application you can track your contacts with the help of their phone number. It has a very simple user interface which can be easily used by any person. This offers the best platform to stay connected and know the whereabouts of your friends and family. You can quit the unnecessary calling and texting to know about the whereabouts, this app can take care of it as it supports real time GPS location tracking and location sharing and movements. With the help of this application, you can even access the history of the different locations your family members or friends has been to.
Although this application is pretty good, it contains a lot of ads which keeps popping up while using the application, this becomes very frustrating and makes the app less appealing.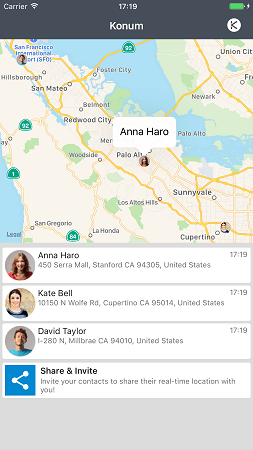 Compatibility: Android and iOS phones and tablets
Price: Free to download but has in-app purchases for accessing the premium features
7. GeoZilla App
This is one of the potent applications available online which can be used to effectively track your loved one's real-time location. If you use this application, you can get a notification alert as soon as your family members leave work or school and as soon as they reach home. A detailed report of all the places your family members have been to in the past few weeks will be shown on the main dashboard of this app. You can even use this application to get connected with your friends and family through the in-built messaging feature.
Though this application has excellent location tracking features, some of them do not work efficiently all the time. The application starts lagging and becomes unresponsive and this is what keeps this app from becoming the best location sharing app.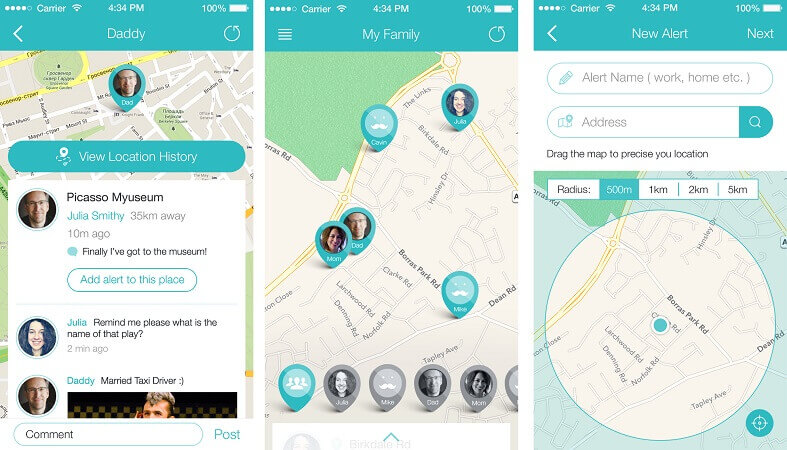 Compatibility: Android and iOS phones and tablets
Price: Free for one month after which you would have to purchase the premium version
8. Pathshare App
With the help of this application, the real time location of your child can be tracked easily without them knowing. This application uses the GPS on your phone to share your location with your friends and family. You no longer need to worry or fret about not knowing the exact address. All you have to do is share your location through this app and its done! It's that simple! This app provides a secure platform for real time location sharing and is extremely easy to use.
Some reports states that this application starts malfunctioning and users have to continuously uninstall and reinstall it several times.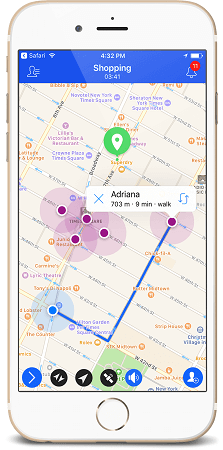 Compatibility: Android and iOS phones and tablets
Price: Free
Conclusion
With the help of these location tracking applications, the information about the real-time location of your friends and family can be accessed easily. You needn't worry about your family member leaving home. Through the features of these location sharing applications, tracking and finding the exact location of friends and family members becomes extremely easy. Out of all the applications, the app which offers the best real time location tracking capabilities is KidsGuard Pro. Go for it!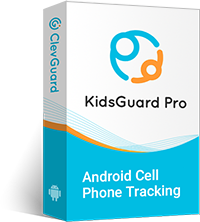 Best Cell Phone Location Tracker
Track real-time location of kids

View all the location history

Monitor all the app acitivities on target phone

Check contacts, messages, call history, browser history and more