Incognito search is a private browsing mode of a browser that helps you to browse websites securely without any trace. The point of using this feature is to stay hidden and leave no trace of your internet browsing to anyone.
But incognito search history can be checked by necessary means anytime. If you want to know how to check incognito history on phone, then you need to follow this article properly. It will help you learn everything on how to see incognito history on phone by using the best tools available on the internet.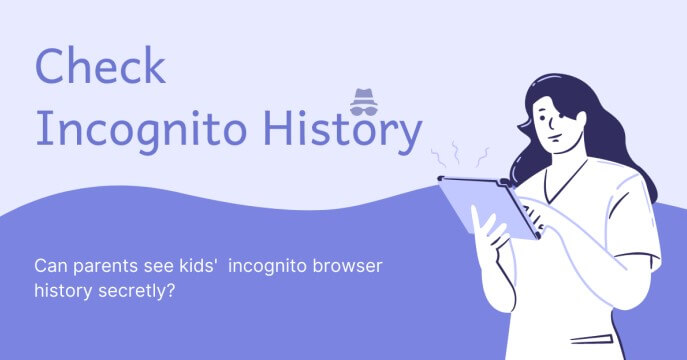 Can You See History of Incognito?
Yes. Tracing incognito search history is possible for third-party tools available on the Internet so that you can apply to easily view incognito search history of yours or someone else's. These incognito search history tracking tools, however, may not be free.
But wonderful goods will never be free, so as these ones. These tools, reliable and trustworthy, deserve it for you enjoying their wonderful features. With the help of them you can easily check Google Chrome or Safari incognito search history on Android and iPhone as well many other things such as track text messages, call logs, contacts information of a target mobile phone.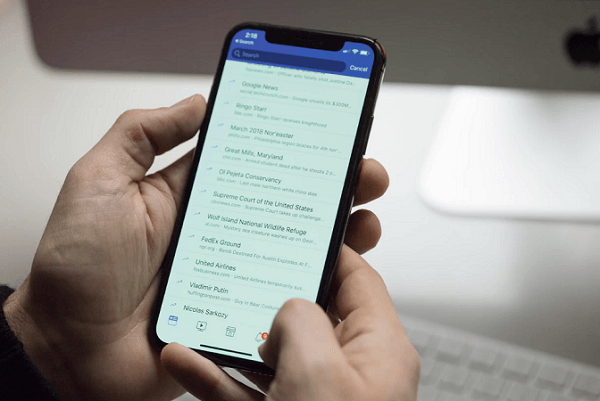 How to Check Incognito Search History on iPhone & Android Without Knowing?
There are various ways that can be used to check incognito search history from another device. Here are some of the most useful and effective apps we found useful in checking incognito search history. Also, if you're interested in how to view someone's incognito history on Android/iPhone, those apps can also help.
1. KidsGuard Pro -- Best Way to Check Incognito Search History on iPhone & Android
KidsGuard Pro is the leading top application for tracing the internet browser history whether searches are done in incognito mode or not. KidsGuard Pro is both available for Android and iOS. It applied advanced technology to record every keystroke of the target device to ensure 100% accuracy of data.
This way also makes the tracing of the target phone without detection. Besides the incognito search history tracking, KidsGuard Pro can track many other contents such as - WhatsApp, Facebook, Snapchat, Discord, Instagram, Skype messages, locations, videos and more.
It's the best phone tracking app on the market. You can click the free demo to try how to check incognito history on Android/iPhone and other amazing tracking functions.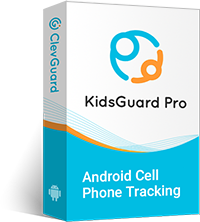 An Array of Amazing Features
Track cell phone location in real-time and view location history
Check all incoming and outgoing calls & SMS
Spy on social media apps like WhatsApp, Instagram, Snapchat, Facebook, Viber, Skype, Discord, and more
Remotely access the files on the target phone, like contacts, photos, call logs, etc.
Listen to phone surroundings, record call history of any number, phone screens and take secret phone photos.
Record keystrokes on the target device and also take screenshots without knowing
Viwe Youtube, Tiktok watch and search history.
Pros:
KidsGuard Pro can track incognito mode search history and provide information with accurate time and date.
The advanced technology of the keylogger can record every keystroke of the target, making the results 100% accurate and the tracking process 100% undetectable.
You can find the accurate URL of each search history.
You can check the frequency of each browsing history secretly.
You can check the incognito search history of anytime i.e. Daily, Weekly, Monthly and Yearly.
Support to search certain history among all with keywords.
The app will disappear after installation.
It doesn't need to root or jailbreak for all devices.
How to View Incognito History on Android
Step 1: Click the button to choose a suitable plan according to your needs.
Step 2: After registration, go to My Products page and click on Setup Guide button. Follow the instruction to download the app on the target's phone. This step only needs to take 3-5 minutes.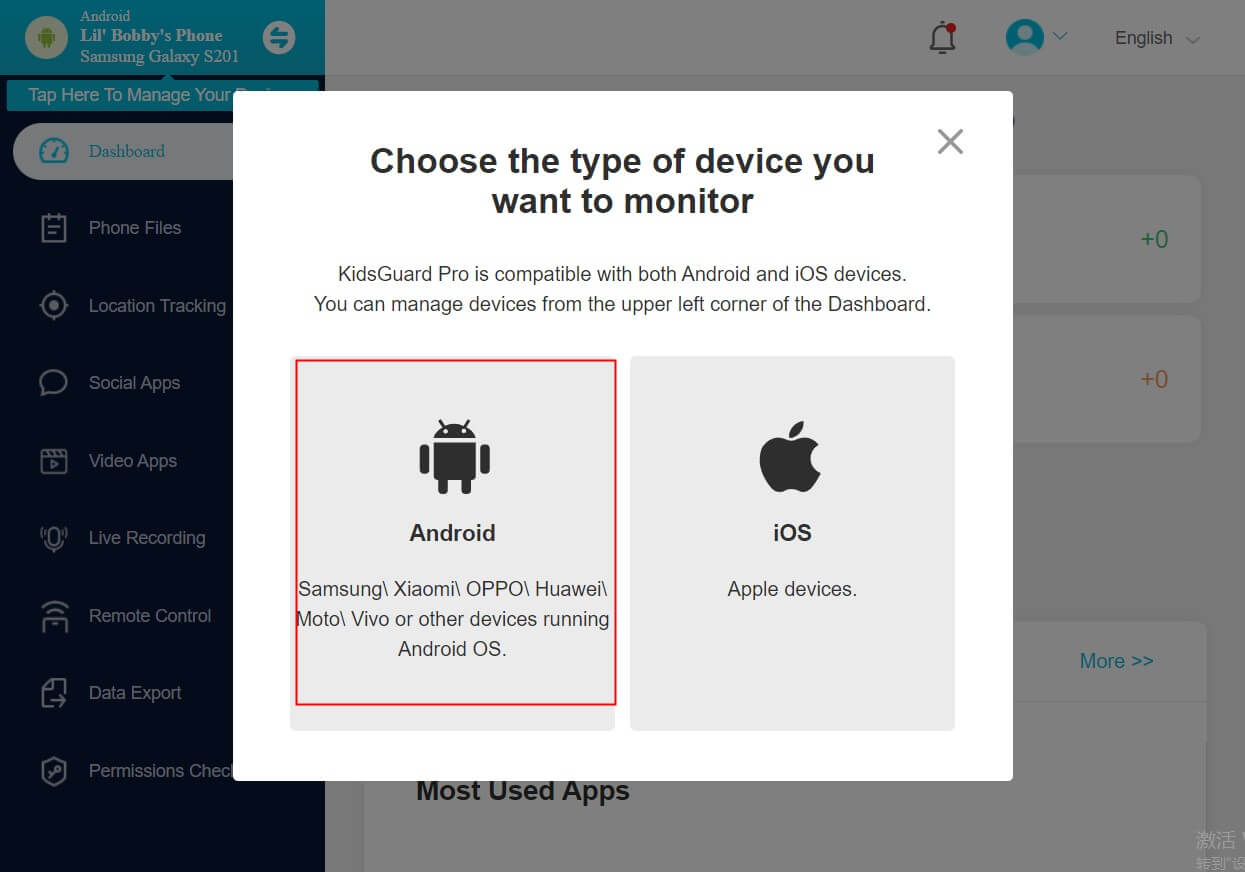 Step 3: After finishing the setup, you can begin viewing the target's incognito history on the online dashboard.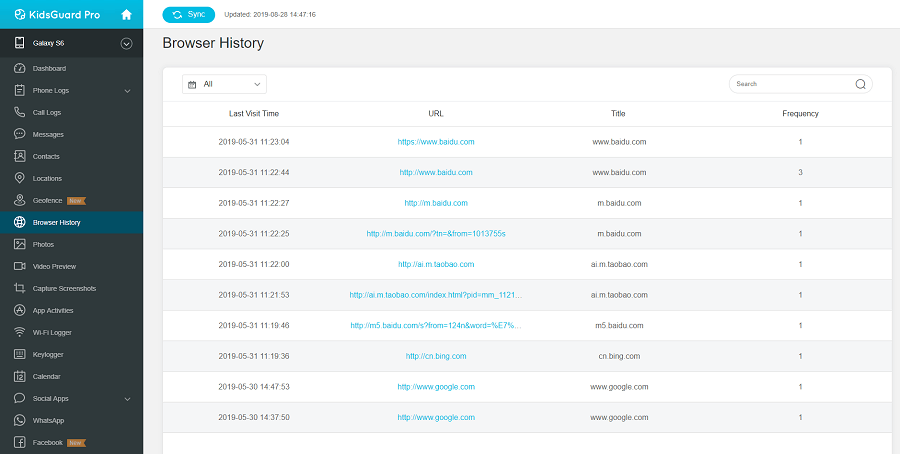 Tips: How to See Google Chrome Incognito History on iPhone & Android [Video Guide]
How to See Search History on iPhone
Step 1. Install and activate the app
First of all, you need to create your account and install the application to use. Follow the complete guideline procedure to activate the services after selecting the package.
Step 2. Connect the devices
Follow the instructions for the installation process to create a connection between the devices to get the data of target iPhone.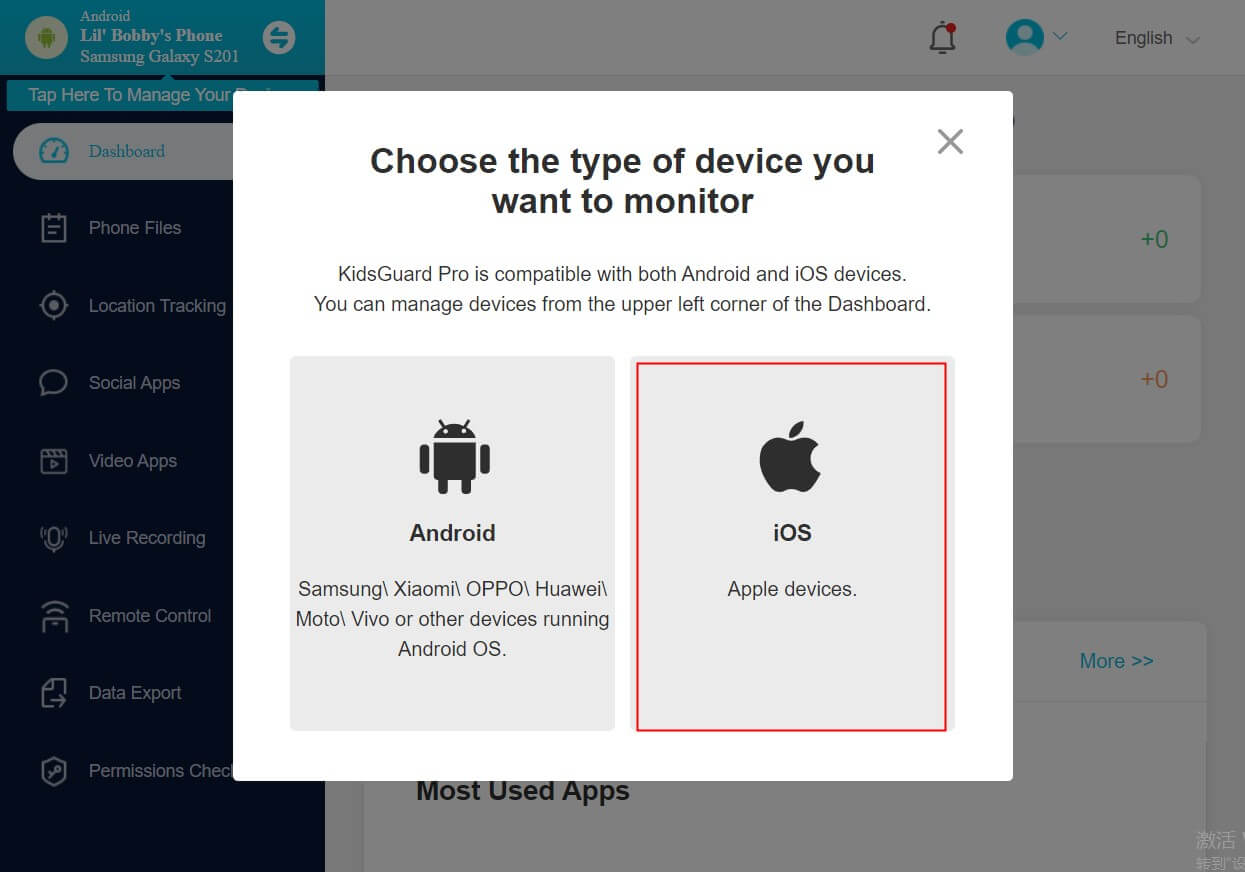 Step 3. View target iPhone's activity on dashboard
Open the Dashboard and find a scroll down the menu bar on the left side and look for the Safari history tab. In this tab, you will be able to watch the websites that are visited and their time and date also.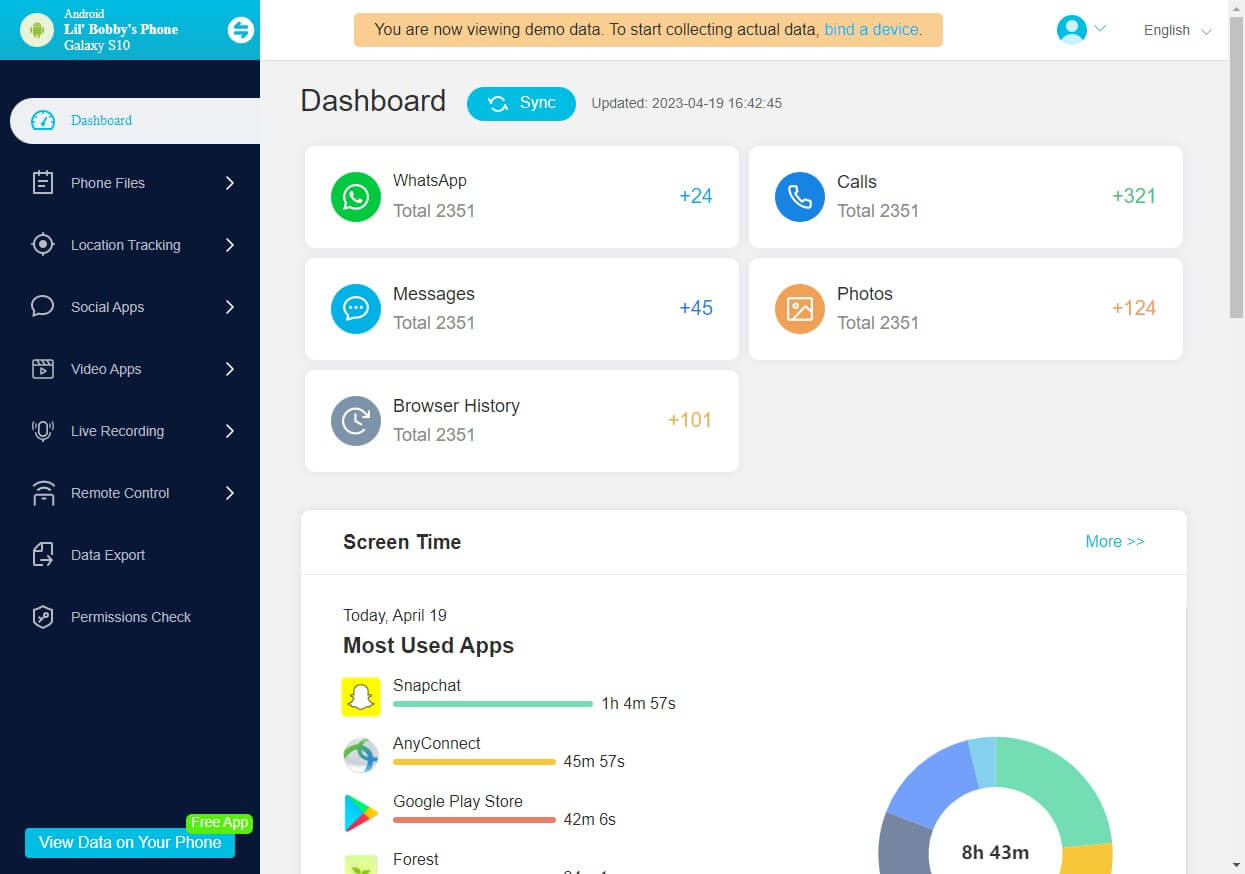 2. Famisafe
Famisafe is the product of Wondershare. Wondershare is a large-scale digital company on the Internet that launched many products. So Famisafe is a trustworthy and reliable application to track incognito history. Although it can track the history well, it cannot track in a stealthy way because of the visibility of the App.
Pros:
It can give detailed account activities including incognito searching info of the target device.
It can track any browser's search history of the target device.
It doesn't require any jailbreaking of iPhone devices or rooting for Android devices.
It can also keep track of other data of the target device such as location history.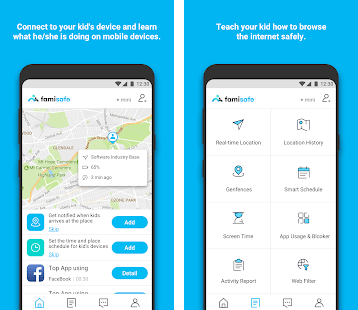 3. Qustodio
Qustodio application is specially launched for the parents. Parents always want to monitor the internet browsing history of their child's mobile phone. In this situation, Qustodio will help parents to access the browsing history whether the search is done in incognito mode or not.
Pros:
Qustodio provides the dashboard portal where they can manage everything
With the help of Qustodio, parents can easily access the incognito browsing history of mobile.
Qustodio provides the opportunity to parents to see the browsing history of each time.
Parents can access the real-time Incognito browsing history from this application.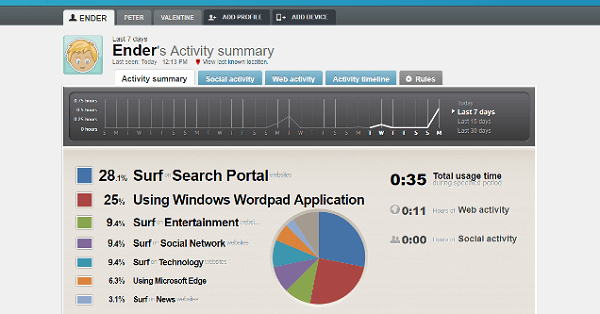 4. Spyzie
Spyzie is one of the best mobile monitoring and internet browser history tracking applications in the digital world. Spyzie is the parent's favorite application where they can easily monitor and control their children's online activity.
Pros:
This application is compatible with both Android and iOS users.
Online dashboard is available to check all the search history.
Parents can see the accurate time and URL of each record.
It can sync the data in real-time.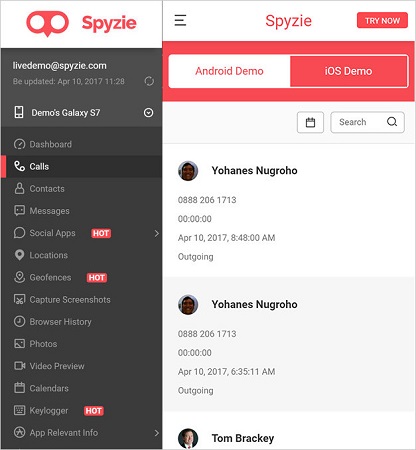 5. mSpy
mSpy is the top remotely mobile phone monitoring and incognito search tracing application. mSpy is a trustworthy and reliable application for its excellent content tracking features. Especially parents love to use this application because it provides lots of features in monitoring their children.
Pros:
It can monitor everything on the target device including incognito browsing history
It can also provide online dashboard to check data.
It can block unwanted and harmful websites.
It will allow you to know about the target device's bookmarked websites.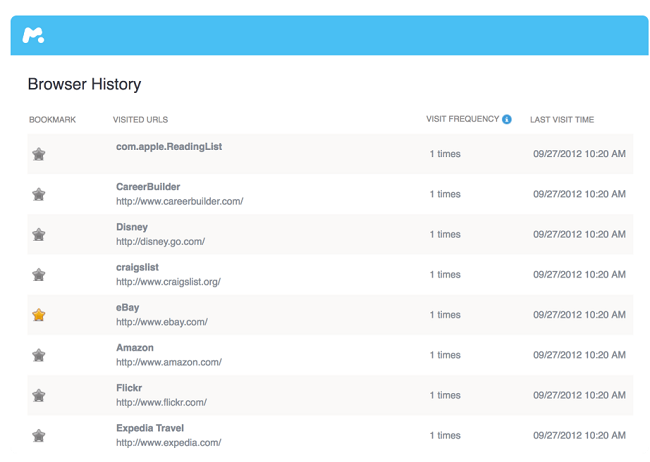 Tips: How to Enable Incognito Search on Different Devices?
Incognito search is referred to as private browsing. This feature is available on every browser. People use it just for keeping the browsing private because in Incognito search browser is not making history.
The process of turning on the Incognito mode according to every device is mentioned below. Almost every device has the same method to turn on the Incognito mode. We just take Google Chrome for example:
How to Enable Incognito Search in Computer:
Open your Google Chrome on the computer.
Click on the 3 dots located on the right top of the browser.
On the third option, you will see the New Incognito Window.
Click on that option, then a new window will open and you will see "You've gone Incognito" written on the screen.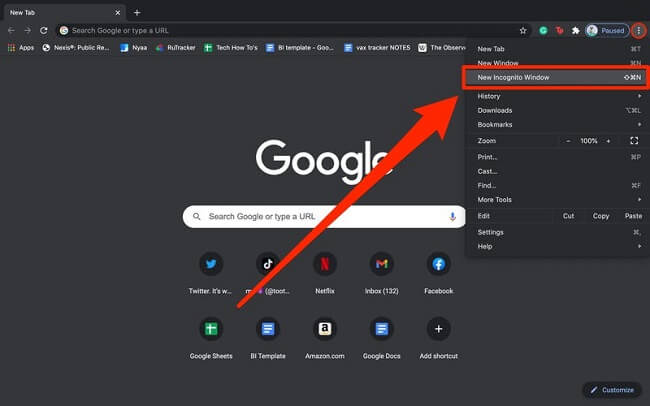 How to Enable Incognito Search on Android:
Open the Google Chrome browser on your Android smartphone.
Click on the 3 dots shown on the top right of the browser just beside the address bar.
On the second option, you will see the New Incognito Window.
Click on that option then you will enter the Incognito search.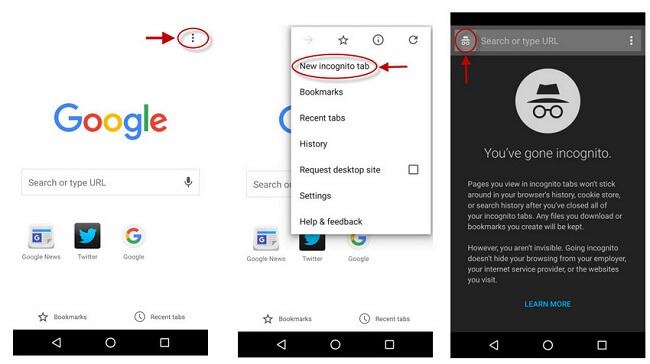 How to Turn on Incognito Tab on iPhone/iPad:
Open the Google Chrome app on iPhone/iPad.
Click on the Chrome menu and find the Incognito tab option there.
Click on the Incognito tab from the menu.
You will direct forward to Incognito search. Start browsing and surfing.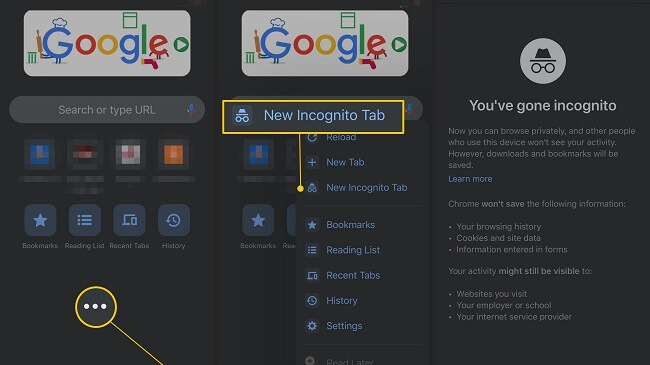 Tips: How to Delete History in Private Browsing
When you browse in incognito or private mode on a browser, it would not save anything to be viewed later. Although the cookies are stored in such a way, they immediately get deleted when the session expires. However, at times you may feel like going back to what you viewed earlier in such a mode.
Although there is no easy way in which you can do this, here are a few ways to see incognito history and even delete it permanently.
How to Clear Incognito Browsing History on Android
Google Chrome is the most used browser for all Android device users. This browser generally comes in-built in all Android phones. Here is how you can delete the incognito browsing history on Google Chrome.
For Android 4.0 and higher:
Step 1: Launch Google Chrome on your device, and tap on "Menu".
Step 2: Tap on "History" and then tick all the checkboxes of the types of data you wish to delete.
Step 3: Select the timestamp from the dropdown menu as well.
Step 4: Next, tap on "Clear Data" and the history will be deleted.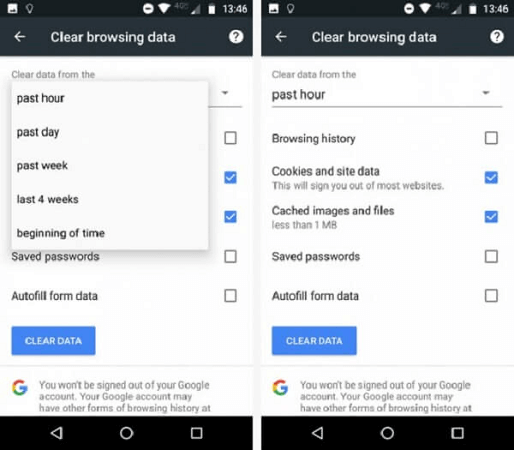 This is the most common way in which incognito history can be deleted using your phone. Once done, nobody can see your history unless they have some professional data recovery tool.
For Android 4.0 and earlier:
Step 1: Go to the browser, tap on "Menu", and then on "Settings".
Step 2: Go to the "Privacy Settings" section by scrolling down.
Step 3: Select "Clear History", tap on "Clear Cache" and "Clear All Cookie Data".Once done, the browsing data will get deleted.
The browsing apps on Android phones do not have the option of automatically deleting incognito history and this is why the above methods can be really useful.
How to Delete Incognito History on Windows
If you wish to delete the incognito history on your Windows laptop or PC, you can follow the steps given below.
Step 1: Launch Google Chrome browser on your computer.
Step 2: Navigate to chrome://settings/content/cookies.
Step 3: Enable "Keep local data only until you quit your browser" and click "Done".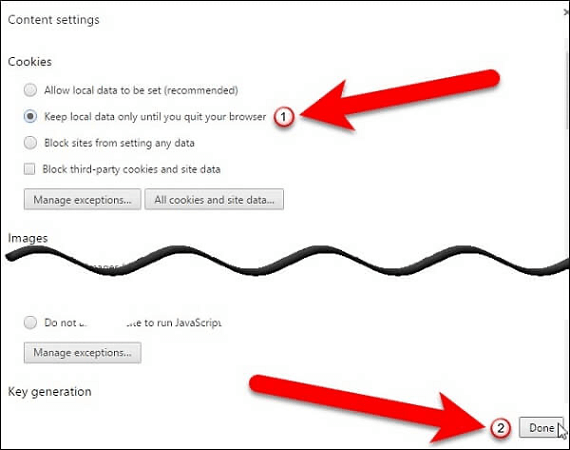 After this, any data that you may have relevant to the sites you visited on Google Chrome in incognito mode, will be deleted.
Things about How to View Incognito History
Q1. Does incognito leave any traces?
Yes, of course. Incognito mode only deletes your local search and browsing history on your computer. Websites, search engines, Internet service providers, third-party apps, and governments can still easily track your web history in incognito mode.
Q2. How to check incognito history?
Incognito mode is a way to hide your browsing history so others can't see the websites you've visited. However, it never means the incognito browsing history is not detectable. By using a third-party browser tracker - KidsGuard Pro, you can easily check anyone's incognito history.
Q3. How to find incognito history on phone?
On your Android phone, open the Chrome app.
Tab 3 dots shown on the right of the address bar, and then open a New Incognito page.
In the top left, you can check for the Incognito icon.
Q4. How to search incognito history on Android?
If you don't use any third-party apps, you cannot search incognito history on an Android phone. But by using an incognito history checker - KidsGuard Pro, you can easily search all of them.
Q5. How to tell if someone uses incognito?
First, clear your current browsing history. If a user navigates to a website in incognito mode, the activity won't appear in the browser's history list. But you are sure that the user was browsing the Internet, and then you can draw a conclusion that they were using the browser in incognito mode.
Q6. How to recover history from incognito mode?
Visit the chrome web store to download and install the "Off The Record History" extension.
After that, launch the browser and type in "chrome://extensions" in the search bar to press the "Enter" key.
Locate the extension, mark the checkbox next to "Allow in incognito", and ignore any warning box.
Open an incognito tab and browse the internet. Click on the Off The Record History extension icon. It will show you a list of your recent browsing tabs and sites you had visited.
Conclusion:
You can use any of the apps described above to know how to check incognito history on phone. These apps are powerful and helpful to anyone who wants to know about incognito search history.
But the best one among them is KidsGuard Pro. This amazing phone monitoring app can help you to see incognito history anytime you want. Its accurate tracking result is better than any other way available on the internet.