Everyone owns a Facebook account and spends a significant amount of time on Facebook sharing pictures, sending messages and posting personal info as well. Large amount of sensitive inforfamation can be accessed online for free, which brings concerns and suspicions. Are you afraid that your kid is chatting with the wrong guy on Facebook? Or in case your spouse spends long hours chatting with someone on Facebook? It is normal for you to get curious about who he (or she) is talking to and what they are doing online for this long. So, whatever the reason is, a Facebook activity tracker is of great help to know how to track Facebook messages for preventing any online dangers. We have compiled a list of the top 3 Facebook tracking applications below, have a look.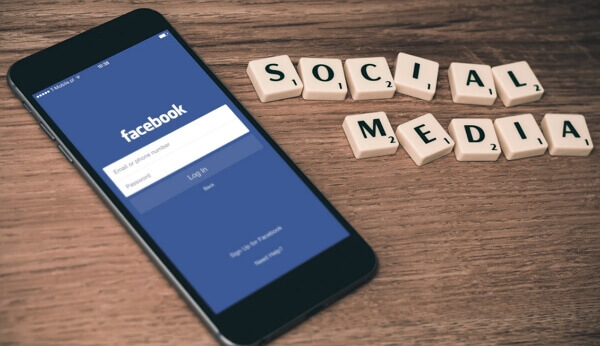 Table of Contents
Top 3 Facebook Trackers Online Are Listed Below
Top 1: Best Facebook Tracker Online via KidsGuard Pro
Price: Premium plan is $29.95/month, and it will cut down to $8.32/month if you subscribefor a year. Compared to other similar options, it offers an unbeatable price which is perfect for those who are on a budget.
KidsGuard Pro has been ruling the market as one of the best Facebook Tracker apps. This program is recommended by millions of users and many tech sites all over the world on the basis of its performance and ease of use.

With KidsGuard Pro, you can have access to someone's Facebook messages, photos, videos and notifications in detail. Once you get the chance to install this app on target phone, you can keep viewing their Facebook account without them knowing. Besides, the installation is very easy for someone who is not tech-savvy and can be done within minutes. The best part is that you don't have to root or jailbreak the target phone. Let's have a look at its dedicated Facebook tracker monitoring features that make KidsGuard Pro one of the best.
This app allows you to monitor all Facebook and Messenger chat messages, including incoming, outgoing, deleted and even secret conversations. Each chat comes with exact date, time and names of the people with whom they are chating.

You can check the profile activity by reading Facebook push notifications like follower's comments and likes. Also, photos, videos and files saved on the target phone or received and sent through Facebook chat are available.

The real-time automatic screenshot feature will capture images on screen as if you are browsing their Facebook live interface so you won't miss anything that happened on target device.

Track someone's Facebook messages in real time with KidsGuard Pro's fast and reliable monitoring features.

This Facebook tracker works in incognito mode, and you can keep checking Facebook messages without someone knowing.

With powerful Facebook tracking features, KidsGuard Pro is ease of use as the setup procedure can be done within 5 mintures. After that, you can access their online dashboard without touching target device again.
We have discussed the most powerful Facebook online tracker capatilities, let's see how to track facebook messagess via KidsGuard Pro.
Step 1: Create an account with a valid email and get a license to access premium features.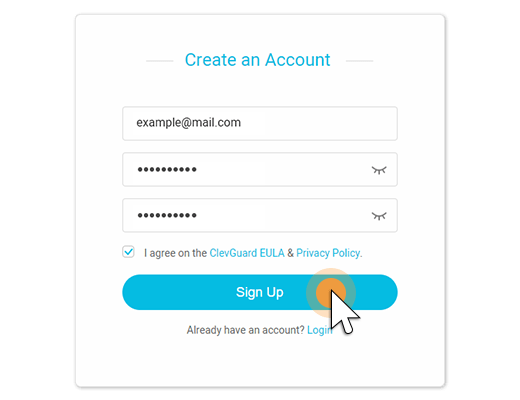 Step 2: Go hold the target device, open www.clevguard.net and download the assistant app. Open the downloaded file and login your account. Then follow the easy on-screen wizard and allow all permisions. After that, the app icon will disappear from home screen and it works automatically in stealthy mode.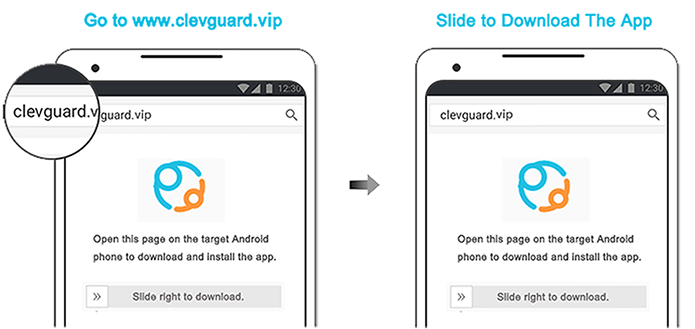 Step 3: Now, you can go back to KidsGuard Pro website again by your device and check collected data remotely. You can select "Facebbook" from the left menu.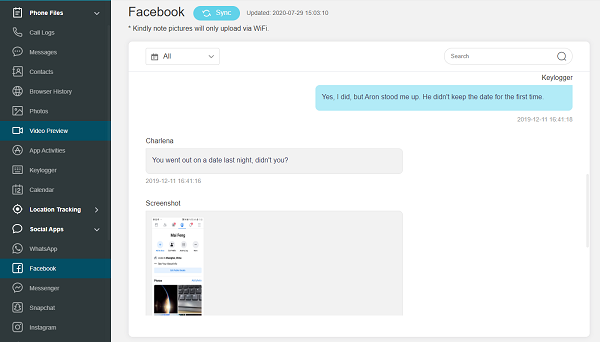 Besides Facebook tracking functionalities of KidsGuard Pro, let's look at more you can get:
The app is capable of comprehensive social media monitoring like WhatsApp, Snapchat, Instagram, Viber, WeChat, Line, Kik, Tinder, Telegram and QQ.

Real-time location tracking is available.

Facilities like Geofence will alert you if the target arrives or leaves somewhere.

You will be able to track all the incoming and outgoing calls and SMS.

You can view contacts, browser history, photos, videos, calendar and other files from the target device.
Top 2: Facebook Tracker Online via FlexiSPY
Price: It has three subscription plans. The premium plan starts from $68/month and comes with Facebook messages monitoring features. If you want to access Facebook call recording, it will rise up to $199 for 3 months.
The second best tracker for Facebook on our list is called FlexiSPY. The multiple Facebook messenger online tracker features of this application help it to reach the second position. You will be able to view Facebook messages and even listen to audio chats on the condition that you need to root or jailbreak the phone. But its price is high which is not friendly for those who are on a budget. Let's have a look at this Facebook monitoring app's features:
FlexiSPY will give you access to all the incoming and outgoing Facebook and Messenger messages.

You can view all the contacts with date and time stamps.

It can record username and password for Facebook account.

You can even listen to audio chat in Facebook.

App screenshot is supported from the online portal of FlexiSPY.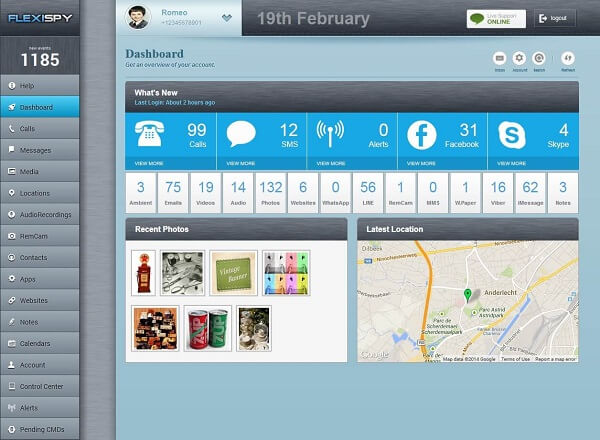 FlexiSPY is a very capable Fb tracker, let's have a look at its using steps.
Step 1: Identify the target phone model and version to check whether it is supported.
Step 2: Choose your package which is suitable for your needs.
Step 3: Install Flexispy app on your target device and make sure it is rooted or jailbroken.
Step 4: Log in to your user web portal and select the data you wish to view.
Top 3: Facebook Tracker Online via Xnspy
Price: The premium edition with Facebook monitoring features costs $35.99/month.
Our third and final choice for Facebook activity tracker is XNSPY. This app lets you view reveived and sent Facebook chat messages remotely from the monitored device. All you need to do is install the app on target device and enter the activation code that has been emailed to your registered email. But if you want to access Facebook tracking feature, you have to jailbreak or root target phone which is tedious and may expose the phone to a security risk. If you don't care about it, let's have a look at its Facebook monitoring features,
The app lets you track Facebook messages related to the account.

You will have access to all the saved multimedia files.

You can easily view dates, time stamps and contact names for each chat.

Exporting Facebook chat data will become easier for you.

You can choose to block Facebook to prevent someone using. But it will make blocking-alert screen, which might alert the person about the XNSPY app if you are monitoring on-the-quiet.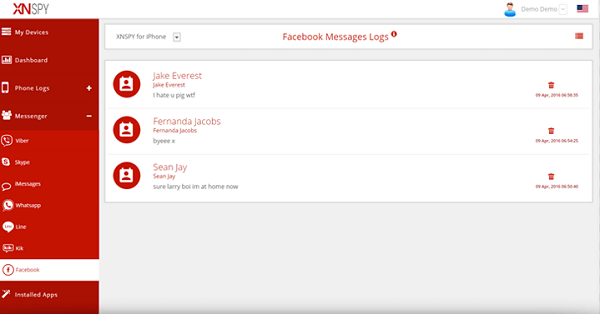 Next we will walk you through how you can install Xnspy application on target device.
Step 1: Sign up with a valid email and purchase a plan. Then you will receive an activation email containing your account login details.
Step 2: Open the URL received on your registered email to install this app on target device.
Step 3: Enter the Xnspy software activation code that has been emailed to you and root or jailbreak your target device.
Step 4: Go back to official website and start monitoring Facebook
A Comparison of Top 3 Facebook Tracker Apps
KidsGuard Pro
FlexiSPY
XNSPY
Rating
9.8
9.4
9.0
Difficulty
Easy
Difficult
Medium
Compatibility
Android / iOS
Android / iOS
Android / iOS
Facebook chats monitoring
Messenger chats monitoring
Facebook usage tracking
Facebook call recording
Facebook photos
Facebook notifications
Messages export
Keywords searching
Automatic screenshots
Customer support
24x7 support and live chat
Good
Not very timely
Requirements
No root / No jailbreak

Jailbreak / 

Root
Jailbreak / Root
Price
$0.27/day
$0.95/day
$0.25/day
Conclusion
Therefore, top 3 Facebook activity tracker apps are listed and perform well related to track facebook messages. But after comparing all the features we still conclude that KidsGuard Pro is the best among them. Because it is cheaper and comes with comprehensive Facebook monitoring features, superior customer support and very easy steps. FlexiSPY ranks second for its Facebook chat recording feature, but you have to root or jailbreak the phone which is tedious for someone without tech knowledge. Also, its price is too high to afford. Xnspy can be your third choice. Just for your information, jailbreak and root are also needed and you may miss Messenger messages. Finally, it's time for you make a decision, just go for it if you want to know how to track someone on Facebook.