You feel ignored because your husband always on phone, even if no notifications are coming up.

He is suddenly too mysterious with his phone and smiling at the texts he receives.

He often hides his phone from you when you're both sat on the sofa and stops you from being able to see what's going on.
In any case, when a man hides his phone or always looks at on his phone, it's suspicious and indicates that he definitely doesn't want you to know something.
I know how you feel. You are flooded with thoughts, internal conflict, betrayal, and anger. But it's no good asking him - or accusing him of infidelity because he'll deny it and you'll have no evidence that he's lying.
Now you may be asking yourself; "how can I see what my husband looks at on his phone?" To be honest, there's an amazing discreet cell phone monitor tool. It can detect a ton of information about what he's been doing on his phone without him knowing.
With this tool at your fingertips, you'll be in a better position to decide where your relationship stands.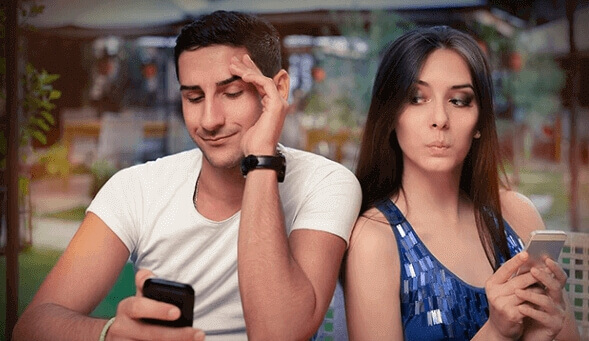 The Best Solution to See What My Husband Looks at on His Phone
If you're worried about what your husband is looking at on his phone, KidsGuard Pro is the best cell phone monitor app that could reveal whether he's being unfaithful to you, helping you to decide how to handle the situation.
It is like James Bond in the challenging circumstances when a man hides his phone. I know your first reaction would be to go;
"I am not that good with techie stuff."
Worry not, it only needs a few minutes to get started. Put simply, you only need access to his phone when he's not looking and install the tool. Then you will be prompted to allow some permissions on the phone to access the data.
It's as easy as 1-2-3! Later, the app is undetectable while uploading data silently. To view the information captured from the phone simply login to your remote online account.
With this tool to hand, you'll be able to check what and who he's been texting, chat history on social media apps he's downloaded, online websites he's visited and listen in call conversations he's been contacting and a lot more. To see how it looks like, you can click the button below.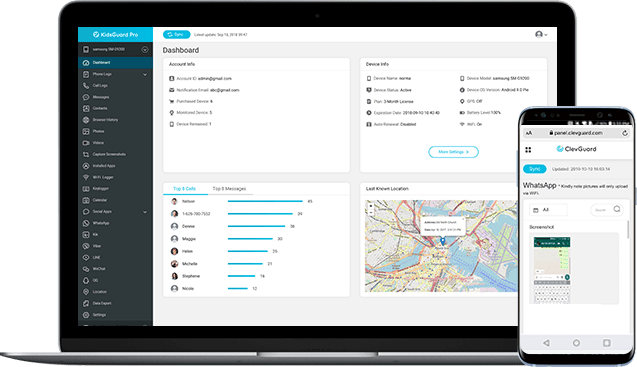 Regarding how can I tell what my husband is looking at on his phone, KidsGuard Pro is an all-round solution that offers 30+ monitoring functionalities to find out the truth.
It will be more than enough to ease or confirm any fears that he's hiding something behind your back. I have listed some of the most important features below that are extremely effective.
What Should You Check If Husband Always on Phone
I agree that a healthy relationship must be built on trust, but when a man hides his phone, you have every right to discover the real reason for your own goods.
So, if you're doubting your man's fidelity, get your hands on a discreet yet effective tool - KidsGuard Pro, to look at everything your husband or boyfriend does on his phone. You can pay good attention to these major red flags.
1. Look at who and what he's texting
Is he always texting someone when you ask him about it or try to take his phone to see something, he tells you that it's just one of his buddies even to avoid talking about it?
Come on, don't believe those lame excuses of his. How on earth can he possibly be texting his buddies all the time?
No, it's not his buddies, it's someone else and you should try to find out who.
A good idea to calm your nerves could be using KidsGuard Pro to look at each message going through on his phone. You'll discover:
Your husband's sent or received text messages on your account.

Even the deleted texts will be checked. You should be cautious about it as he doesn't want you to find out.

The name of someone who texts your husband along with date and time stamp of each text.

A list of 8 top messages to show you who he's been texting frequently.

The message are uploaded in real-time with internet.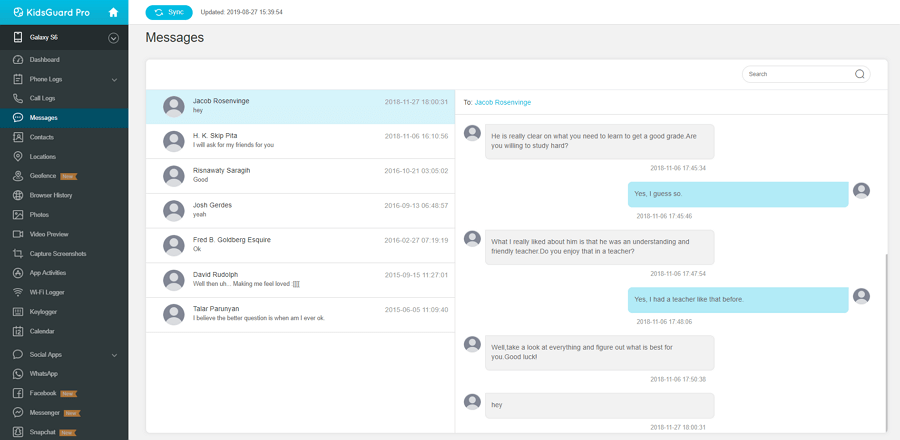 2. Monitor his social media accounts
Currently, most cheating is done via the Internet. Many men are good at hiding secrets with the use of social media apps.
In fact, your husband may communicate silently with his ex on social media. He may like or comment on one particular person's profile or account without you even knowing. It is easy to flirt or add new girls on social media.
Then, KidsGuard Pro is a great tool you can use to uncover his activities online. What might surprise you is that it covers 16 popular social media apps, like Facebook, Instagram, Snapchat, Viber, WhatsApp, etc. In other words, it will allow you to catch him in the act!
You can view incoming and outgoing instant messages.

It can retrieve secret conversations as well.

You can check media files exchanged through chats.

You can keep track of his app interactions with others, e.g. likes, comments and app notifications.

It will capture screenshot of the phone screen when those apps're in use. This helps you monitor all activity vividly.

You don't need to get his social account passwords, or follow his accounts.

You may also want to know: What Apps Do Cheaters Use?
3. Track down his whereabouts
Recently, your husband often tells you that he'll be working late and have "boys' night out" more frequent. Caution! He may be out with another woman.
That's really not okay; before accusing him of lying, though, make sure the evidences are in your hand; you should definitely check where your husbnad is right now and his location history. With KidsGuard Pro, you'll be allowed to;
Track where your husband is in real-time during the entire day.

Know the necessary details like specific address and time on a map.

Get accurate outdoor and indoor location history.

Set a virtual zone with geofence feature and get notifications when your husband enters or lefts that area.

Keep track of where he's been remotely and discreetly.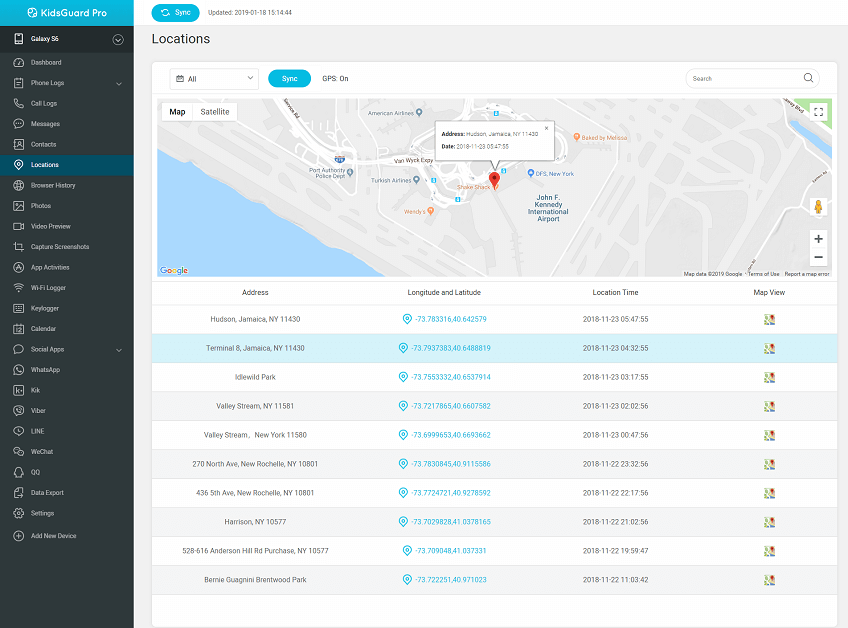 Apart frome these useful features, KidsGuard Pro is capable of tracking call logs, phone files, online browsing history, etc. on your husband's phone. That way, you can get to the bottom of the situation if your husband always on phone.
How to Spy on Husband Phone with 3 Simple Steps
If you wonder is he hiding something, you would need to download KidsGuard Pro app and set it up on your husband's phone. As mentioned above, it is extremely easy to use. And the app is less than 10 MB, so it won't take up too much space or bring itself into notice. Let's not waste more time, just follow the steps below.
Step 1: Create an account
Tap on "Monitor Now" button and sign up using a valid email ID of yours. After successfully created an account, you will need to buy a license to activate your account, then simply navigate to your My Products page, tap the Setup Guide to finish the following process.
Step 2: Download the app on your husband's phone
You need to have access to your husband's phone for a few minutes. Open www.clevguard.net with any browser. Slide the bar to the right to start downloading the KidsGuard Pro app. Remember to delete the web history and downloaded installer to remove the traces.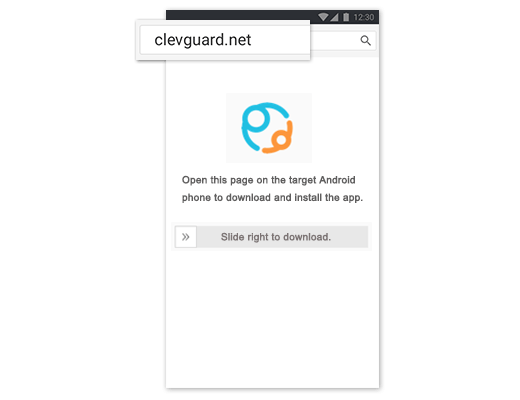 Step 3: Finish the setup wizard per instructions
Tap the downloaded file and finish the installation. Then, login in with your account and authorize KidsGuard Pro to access data on your husband's mobile phone according to the instructions. Once you finish the setup, the app icon will be deleted on the homescreen.

Step 4: Start spying your husband's phone
Turn back to the its control panel on your own phone or computer. Now, you can see see what your husband looks at on his phone from here. All supported features are listed on the left menu so that you can click each category to view the data including calls, messages, locations, photos, browsing histories, Viber, Snapchat, WhatsApp, Line, Facebook, etc.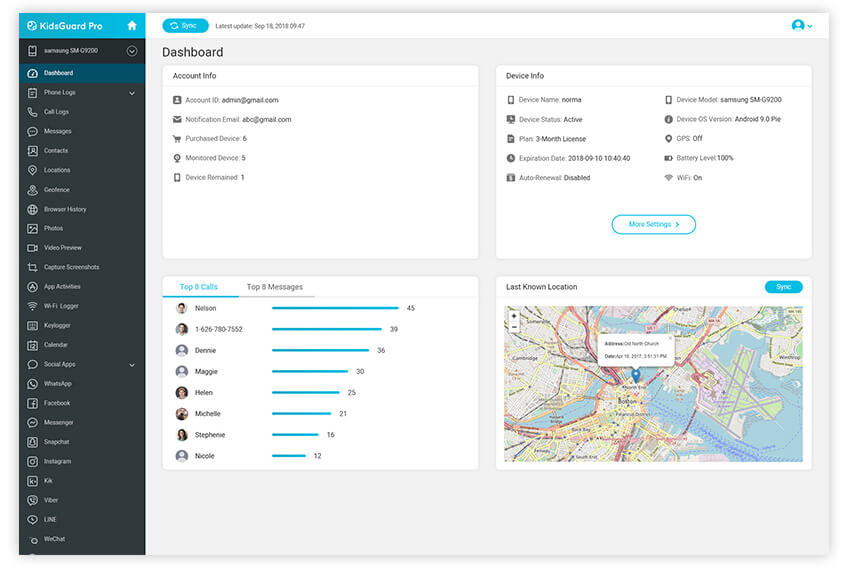 Regarding the question of "how can I see what my husband looks at on his phone", the answer is to use KidsGuard Pro app.
Usually, you will find out the truth for sure, but in the meantime, it just sucks; I know; I've been there. Plus, unfortunately, as you try to make the situation make sense, most men just start being irritated. But the truth is, they just can't cover their butts!
As much as using cell phone is something all of us do, though, it's not okay when your husband always on phone or even hides his phone. And it may be a sign that you are being cheated on. Therefore, I really hope that this discreet yet effective cell phone monitor tool has helped you if you want to do what's best for you and your marriage.