It was the initial change in behavior and then quickly closing browser as I got closer to the screen. Then I found some red flags like some e-mail addresses I didn't recognize in his box. I got more suspicious. He thought he was being sneaky, but I finally found him online dating with two girls...
Recently, we have received this mail about how to find out if someone is on a dating site. Do you suspect your partner is cheating behind you? Want to find a way to reveal the truth? This isn't always easy. Looking for signs helps, but it may not be useful when confronting everything to your partner. Don't worry, our today's tool will dive into the details and gather evidence if your partner is on a dating site.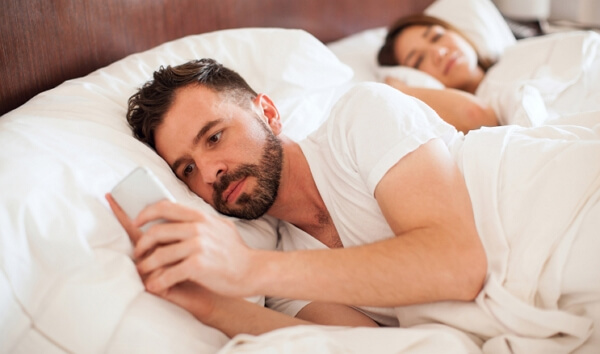 How to Check If Someone Is on A Dating Site
Gone are the days when people used to bust cheating with magnifying glass only. How can I find out if my partner is on a dating site? Well, cheating app is now a very common tool used by millions of people across the world to try and bust cheating. You have to physically be able to hold the target phone and install this app on it. The second thing you have to do is to start spying everything on your own device.
Which is the best app to bust cheaters?
KidsGuard Pro is among the most powerful catch cheating app available in the market. It has the capacity of online browsing history tracking as well as the ability to record phone calls and other 30+ monitoring features. Any information you can find out if someone is registered on a dating site, KidsGuard Pro have it.
Using this catch cheating spouse app does not require you to be tech-savvy. Many spy apps need to root or jailbreak the target phone, but KidsGuard Pro does not. If all you know about technology is to use browser, you'll be able to use KidsGuard Pro effortlessly.
Checking if someone is on a dating site is one thing. Doing it undetected is another. Well, when you are using KidsGuard Pro, your target will never know that they are being monitored because of the stealth design of this app. Once installed, it's going to remain hidden and record all the information of the device and upload it to your personal web account.
Steps to find someone online dating using KidsGuard Pro
Step 1: Sign up
Create your KidsGuard Pro account with email and get a license. Then download the app on the target phone by visiting www.clevguard.net.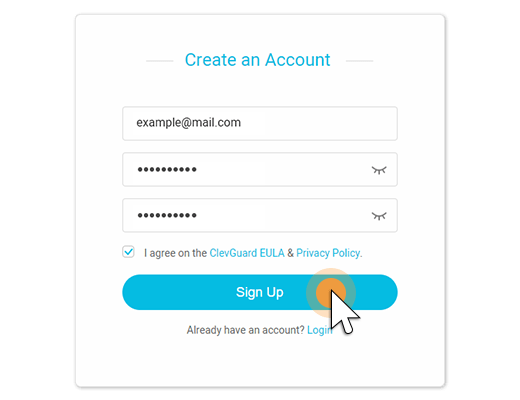 Step 2: Install on the target phone
After downloading the app on the target phone, tap on the APK file and log in your account details and finish the setup wizard following the instructions displayed on the app interface. As soon as the app is installed successfully, it becomes incognito on home screen.

Step 3: Start monitoring
Now, visit KidsGuard Pro official website, log in to your account and connect the device. After that, you will enter its dahboard, where you can select all the files on your partner's phone. Click on Browser History under Phone Files section, and you will see all the websites visited. Feel free to find evidence.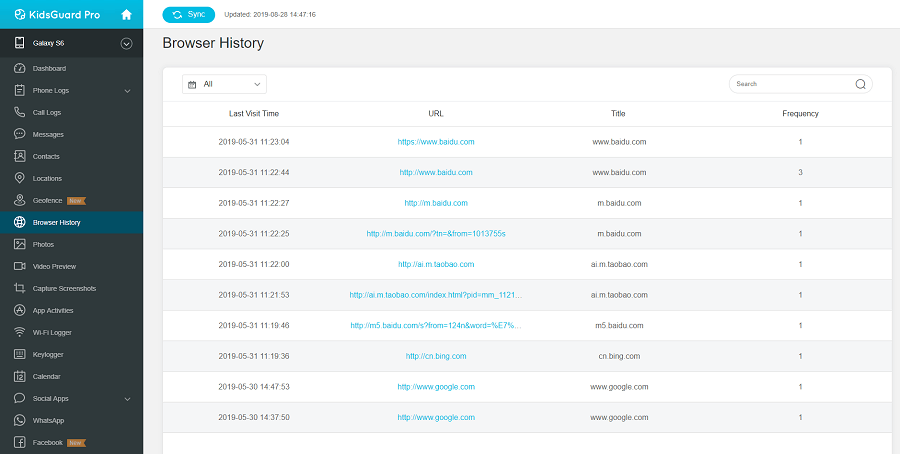 Advantages of using KidsGuard Pro to check browsing history
How can I find out if my boyfriend is on dating sites? This was a complete mystery until only recently when KidsGuard Pro (known as cheater buster app) makes it easier and real. First of all, online web history will directly reveal whether someone is registered on a dating site and have a visit frequently. KidsGuard Pro is good for:
Track all websites visited including dating sites on your partner's web browser.

Keep a record of those browsing in incognito mode as well.

Check time and date stamps, title, specific URL and frequency of every visit.

Search certain history among all records with keywords.

This app is 100% undetectable on your boyfriend's phone, so he has no idea about being monitored.
To see it in action, check out KidsGuard Pro's free live demo >>
What Else Can KidsGuard Pro Spot If My Partner Is on A Dating Site
Apart from dating on online dating websites, your partner is possible to flirt with other women on Tinder, Snapchat, or other social media apps. Worry not, KidsGuard Pro covers all your concerns and gives you access to every bit of data on the target phone. So if your BF is on dating sites, you can also look for:
1. Spy on social media apps
Another remarkable spying feature with KidsGuard Pro is that it supports to monitor most popular social media platforms and attached files.
Read all sent, received and deleted messages along with exact date and time on your partner's device.

Look through all exchanged photos or videos through chats.

Monitor Tinder, Viber, Snapchat, Facebook, WhatsApp, Instagram, LINE, Kik, WeChat, and a lot more social media apps.

A real-time screenshot of the social media apps can be uploaded if there is Wi-Fi network connection.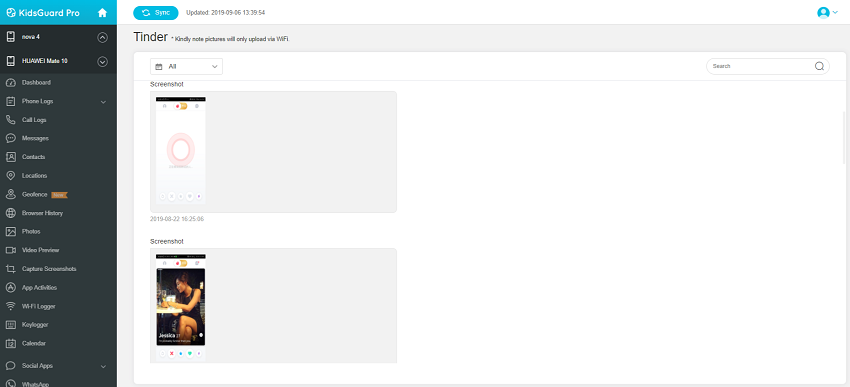 2. Check call logs and record call conversation
When using the app, you get an opportunity to check all the activity regarding phone calls and record the ones that have been answered by the target device user.
View the created time of all incoming, outgoing and missed calls.

Check details like contact names, phone numbers and duration.

Listen to call conversations without them knowing.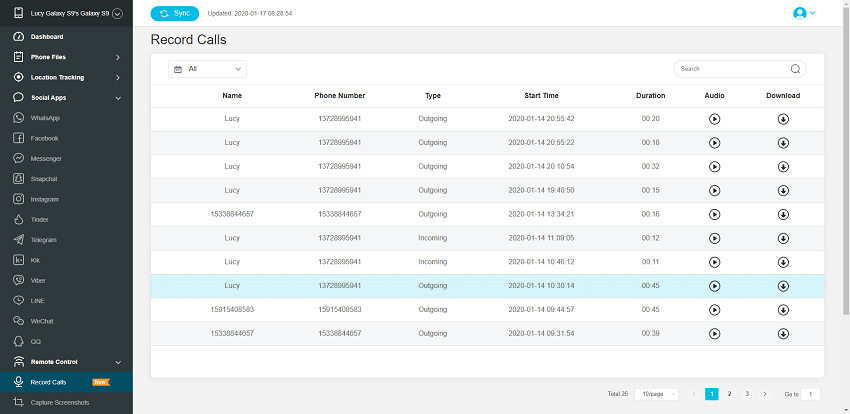 3. Track your partner location remotely
You will be stay updated on the whereabouts of your partner, wherever they are. You can find out if he is at work or go somewhere suspicious.
See your partner's current whereabouts on the detailed map. Get specific details like coordinates, location time, street info and more.

Check their route history over a specific interval of time.

Set up a virtual area and get notifications when they enter or leave that area.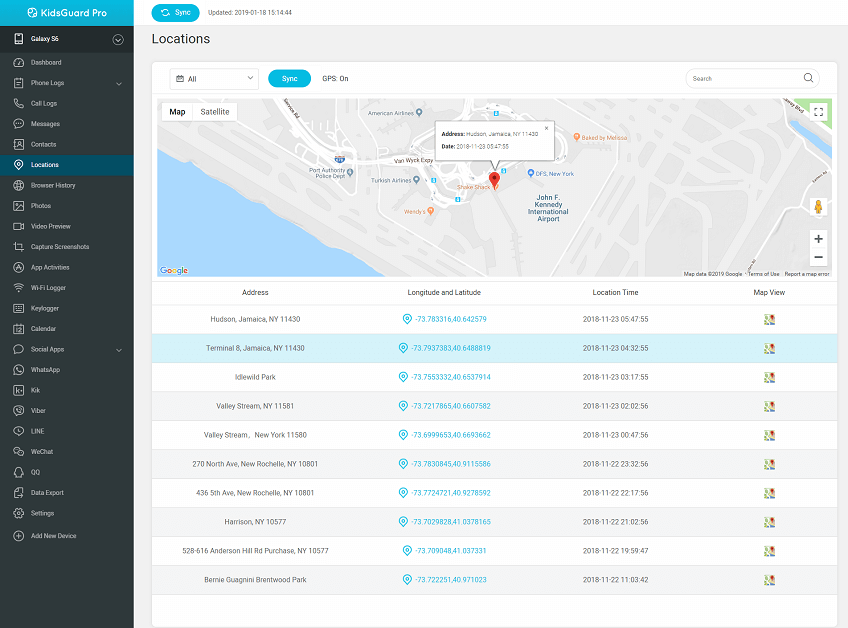 Really impressed, right? However, this is not even 30% of what KidsGuard pro can do for you.
What We Recommend & FAQs about How to Find Someone Online Dating
For those who wonder how can I tell if my BF is on dating sites, KidsGuard Pro is the best solution to gather any cheating evidence at ease. There are some frequently asked questions about it. Some of these are:
1. How long does it take to find someone on a dating site?
Using KidsGuard Pro, 3-5 minutes is enough for a novice to install the app on cheater's phone. Then you can login a remote control panel and select Browsing History. It is a long term solution to find if someone on a dating site without getting their phone everytime.
2. Can you check if someone is on Tinder?
Yes, you can check if someone is on Tinder with the help of KidsGuard Pro. You're allowed to read messages, photos, videos, notifications and screenshots on Tinder.
You can also click here to find what apps do cheaters use >>
3. Can you search to see if someone is on a dating site?
KidsGuard Pro support to search the entire history by keywords to see if someone is on a dating site. You can also have access to specific URL of each browsing record.
4. What do I do if I find my boyfriend on a dating site?
The first thing you should do is take a breath and give yourself a bit of time to calm down. Then gather evidence and talk to your partner about how you feel. Never blame yourself and process everything in a healthy way.
Now that you have seen the best app to find out if someone is on a dating site, I am sure your life will become easier. Get your hands on KidsGuard Pro and start reveal the secrets right away! Let's know if you meet any problem and we're glad to help.