While Instagram started as a photo-sharing application, initially, it soon turned into one of the most flexible social media messaging platforms in the world, with millions of users globally. One of the main features of this platform is DM or Direct Messages.
Instagram Direct Messages is useful if you want to send text messages, videos and images with specific individuals you follow and who follow you. If the target persons don't follow you, your message will land in their message requests.
However, it has some pitfalls too. Some predators are actively targeting children and some unfaithful partners are cheating through this feature. So, if you ever felt the need to know what is going on in someone's life, we are going to spread some light on how to see someone else's DMs on Instagram for free.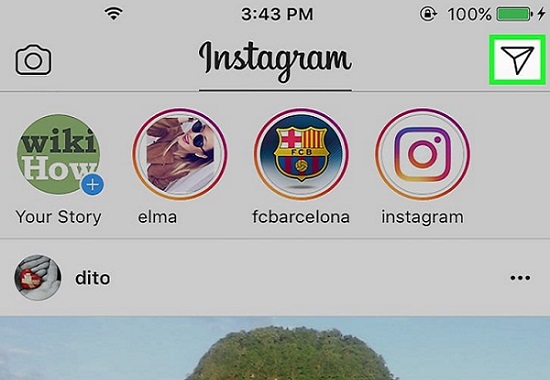 How to Monitor Instagram Direct Messages
If you wonder how to read someone's instagram messages, scrolling his Instagram activity tab isn't effective. The only workable way is to utilize a DM tracker for Instagram that can help you to dig deep and collect the proof of evidence.
How Does DM Tracker for Instagram work?
This tool is very easy to use. Once installed on the target's mobile, it will gather and upload all Instagram data to a web portal where you can check on your own computer or phone. Before you can start to see Instagram DMs without opening them, you will need to look for a reliable and safe app.
What is the Best Instagram DM Tracker?
When it comes to see other people's Instagram messages, you must give  KidsGuard Pro a try. It is the No. 1 DM tracker for Instagram in the Market which is 100% secure and hidden to use. It means that it keeps tab on someone's activity without letting them know.
This program also guarantees that you will be able to monitor someone's Instagram comprising their content such as all direct messages, videos, photos, and links. What's more, it can also track post comments and likes as well as posted images, and videos.
Thereafter, you can rest assured to have a thorough insight of your loved one's Instagram activity remotely via your control panel. It can be worth mentioning that this app can be used by anyone as you can use it easily without putting any efforts.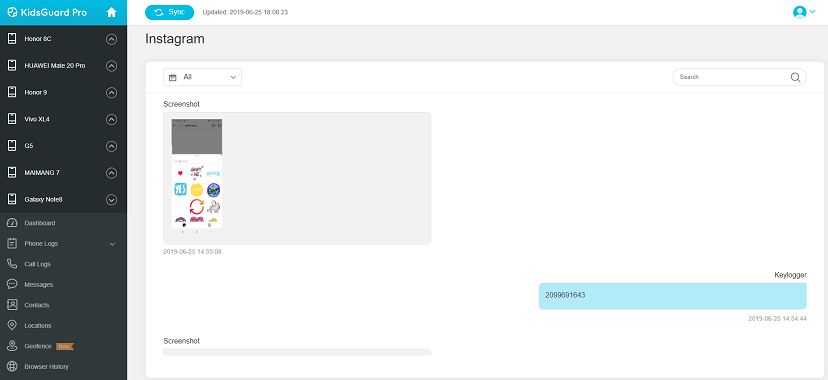 Steps to Use KidsGuard Pro Instagram DM Tracker
Time needed: 5 minutes
Requirements: You should have access to the target phone for once.
What can you check: Instagram direct messages, photos, videos, posts, notifications, activities, screenshots. As a bonus, you can track location, record calls and monitor other 10+ social media apps.
Possibility of being caught: No. This program works completely hidden in the background.
Here is how to see someone's Instagram messages without them knowing in 3 simple steps.
Step 1: Create a KidsGuard Pro account from the official site and get a valid license. Then you will get the download link from My Product page.
Step 2: Open your target's phone's browser and visit www.clevguard.net to download the KidsGuard Pro app. Make the necessary changes in the configuration processs of this app. Don't worry, everything is well explained in the app interface.

Step 3: After the setup is completed, this app goes incognito. You can go back to KidsGuard Pro official website and connect the device to enter dashboard. You can then remotely monitor someone's Iinstagram messages.
From Social Apps > Instagram, you can see incoming, outgoing and deleted direct messages along with contact name, date and time. You will also be informed about who liked, who commented, who followed, etc. here.

From Phone Logs > Photos or Videos, you can find Instagram folder and view posted or shared images or videos in someone's Instagram.

From Remote Control > Capture Screenshots, you can capture real-time screenshot of target device screen. By default, this app will take screenshot automatically when the target is using social media apps.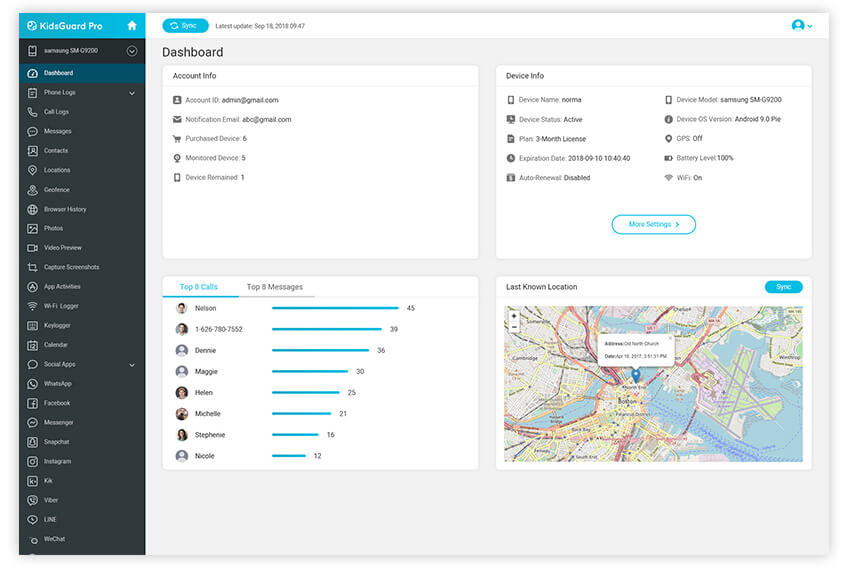 This is how to read someone's Instagram messages using KidsGuard Pro. Anyone can complete the setup within 5 minutes and it doesn't require advanced and special computer skills.
Other features of KidsGuard Pro tracker
While it's a handy tool for monitoring the Instagram DM messages of someone, it also includes useful features such as:
Cover 10+ popular social media apps: Apart from Instagram, you can monitor Facebook, WhatsApp, Snapchat, Messenger, LINE and more.

Track real-time location: You can be sure to know about the whereabouts of your target and get alerted with Geofence.

Record calls: You can get to hear the real-time listening to your loved ones. Not only that, but you get detailed call logs with date, duration, and number of the caller.

Take ambient photos: You can activate the target phone rear camera to take picture and know about the reality.

Trace browser history: You can view what've been visited by the target even in incognito mode.
With this DM tracker for Instagram, you will get excellent services. If you are unsatisfied with the app, then you can get your money back, but in most of the case, there is found to be 98% satisfaction from the users.
Also, you can give your valuable feedback so that they can bring more features with an updated version. With the times, they have been improved a lot and now this app is recommended by many professtional tech media outlets.

Conclusion
Therefore, Instagram has very tight security. Without any outside help, it is impossible to get into an account. Getting the password and username of the target account is also not easy. So, you have to depend on an Instagram DM spy tool to track someone's Instagram messages effectively.
Though there are lots of DM tracker for Instagram,  KidsGuard Pro is far different as it provides a variety of services for the best performance in order to offer the best outcome possible.