Question: What is Bullying?
The Centers for Disease Control (CDC) defines bullying as a form of unwanted, aggressive behavior from an individual or group toward another individual that is usually repetitive.
Bullying can manifest itself in many different ways like physical intimidation including; Tripping, hitting, pushing...
Cyberbullies torment their victims publicly, privately, and/or anonymously through texting, apps, forums, and gaming platforms.
In this article, we will discuss why bullying is bad for children, and give some ways to help children against bullying.
When & Where Does Bullying Often Happen?
Bullying behavior is such a detrimental problem to our society today. There are many different kinds of bullying behavior and one needs to look no further than their local news channel headlines or neighbor's Facebook feeds to see just how prevalent it is.
Social media and texting allow cyberbullies to send victims explicit images or send images of victims to others.
Whether it is social status, wealth, physical strength, or size – these are all factors that play into the frequency and intensity that a bully can inflict damage on another person.
When help isn't sought by the victim and reporting by bystanders isn't taken action upon, we often find ourselves questioning why do people bully?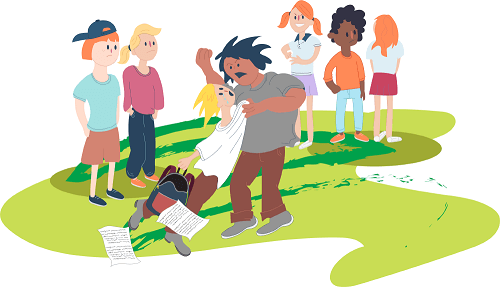 Why is Bullying Bad?
Bullying is bad in every sense whether it is physical abuse or cyberbullying. It has s drastic effects on the victims.
What are the mental & physical effects of bullying?
Mental effects
Being bullied as a child and continuing through to young adulthood not only has detrimental effects on cognitive, social, and emotional development but also impacts physical health. The effects of bullying on mental health include:
Generalized anxiety
Agoraphobia
Panic disorder
Loneliness
Depression
School avoidance
Bullying doesn't impact only the victim, it hurts everyone. Research has shown that young bullies tend to grow up to have a higher risk of becoming drug addicts and repeat offenses.
If an individual is both a bully and being bullied, they have an even more difficult chance at success during adulthood because they're stuck dealing with a lot of problems simultaneously.
The short-term effects of bullying can lead to:
Anxiety
Low self-esteem
Difficulty sleeping
Depression
Self-harm or suicidal thoughts
So it's important to look out for signs early on - and keep an extra eye on those who are susceptible to bullying.
Physical effects
In addition to the emotional trauma that occurs during this type of bullying, there are physical effects as well. For example, being intimidated or teased can cause bullied children to suffer from insomnia and stomach ulcers, which are nearly always a result of long-term stress.
Beyond the bumps, bruises, and psychological trauma of having someone repeatedly pick on you. Researchers discovered that stressed-out bullied kids had more problems with their immune systems and other conditions caused by long-term stress.
The bullied children can suffer from:
Asthma
Depression
Anxiety disorder
Sleeping disorders
Eating disorders as well
Related Read: [Can't Miss] Top 5 Solutions of Bullying
How to Help Kids to Anti Bullying?
This is how you can help your kids to act against bullying.
How many kids are bullied?
According to the National Center for Educational Statistics, 20.2% of students report being bullied while in school.
Thirteen percent of the reported bullying victims were singled out or verbally insulted by being called names, commented about, or made fun of; thirteen percent witnessed verbal assaults of others with rumors and gossip.
Five percent were physically harmed in some way from being pushed, tripped, shoved, beaten up without provocation or spit on.
According to the stats from the National Center for Educational Statistics, a higher percentage of male than female students reported being physically bullied (6% vs. 4%).
In addition, a higher percentage of female than male students were the victims of rumors (18% vs. 9%) and the targets of "being left out" on purpose by other classmates (7% vs. 4%).
How to report bullying?
Too often people suffer in silence without saying anything at all. The single most proactive thing you can do to protect yourself is reporting the bullying.
The best way to be taken seriously about it is to tell someone (the school, a friend, a family member, etc...) whom you trust so that together you can work out a plan of action to deal with the situation since everyone deserves to feel safe in his or her environment.
Explaining why you are feeling like this and going through everything step by step makes it easier on everyone because then they have all of the information they need and more to help solve this issue quickly.
What can parents do to protect their kids?
As a parent, to protect your kids from every kind of bullying you need to focus on a few things.
Parental control apps
Kids often lack self-control, empathy, and sensitivity. With that said, it's helpful to keep an eye on them. Now a day's cyberbullying is much greater than other kinds of bullying.
So, to prevent any sort of bullying from occurring through cell phones, KidsGuard Pro for Android will assess you.
KidsGuard Pro for Android gives you the ability to monitor the apps your children are using and are connected with. You can check shared images, chat history, and app activity history with an easy-to-use interface that will keep you updated 24/7 on what your kids are doing online.
One of the main features of KidsGuard Pro is GPS tracking. You can view the location of your child in real-time via an online map. Furthermore, this system is beneficial for parents who wish to set up virtual boundaries on their child's device that will notify them anytime their child enters or leaves these areas.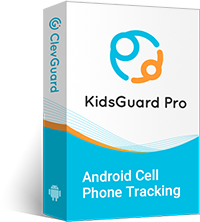 KidsGuard Pro for Android Features
Track cell phone location in real time and view location history
Check all incoming and outgoing calls & SMS
Spy on social media apps like WhatsApp, Instagram, Snapchat, Facebook, Viber, WeChat and more
Remotely access the files on the target phone, like contacts, photos, call logs, etc.
Keep open communication with kids
If you're worried about your kid and think he could be being bullied, make sure you create a safe space for him so he isn't afraid to tell you what's going on.
Make it clear that safety is your number one priority, and that he can come to you with anything.
Use a calm, understanding tone, and don't overreact even if it seems like things are bad because they might not be as bad as they seem.
Build Your Child's Confidence
To build your child's confidence, create an environment at home that mirrors how he/she would like to be treated by others. Allow your child to engage in activities that he or she enjoys to bring out their best characters.
Tell them what you love about them and make sure to reinforce the positive behaviors that you would like them to emulate such as being kind and empathetic towards others.
Conclusion
A lot of people tend to think that one type of bullying is more common than others but this is not the truth. It's important to educate oneself about all types as you may come into contact with any or all types of these behaviors during your lifetime. Kids at school are more prone to bullying. So to protect your kids teach your ids to report any sort of unwanted behavior and don't let a bully make them feel bad.