It's generally accepted that Apple has the safest operating system, so it is obviously hard to spy on iPhone, unless the device is jailbroken. However, most of users with spy needs aren't ready to take the risk of bricking the iPhone, and they are looking for some safe ways to spy on iPhone without jailbreak. So in this article, we are going to present some apps that can effectively work without jailbreak the target iPhone.
Can You Spy on An iPhone Without Jailbreaking It
Yes, it is definitely possible. But most of the spy apps are unable to do it due to the strict security protocol of iPhones. If you know the correct way, the actual procedure is very simple. We all know that Apple's default cloud service, iCloud, can store the important information on the iPhone, which means, if you have the iCloud credentials – Apple ID and password, you can easily have access to this data. You don't even need physical access to the device. In a word, iCloud credentials and frequent backup are required in order to spy on iPhone without jailbreak free. This is so far the easiest and safest way for most iPhone spy apps to work. The biggest limitation is how you can manage to obtain someone else's iCloud account.
Meanwhile, we have to admit that jailbreaking the iPhone will make the spying apps more capable and only then they are able to provide more spying options. You can find out many of iPhone spy apps offer jailbreak editions. Nevertheless, a friendly warning is don't jailbreak your iPhone as there are plenty of downsides. It will invalidate iPhone's warranty and also make the user suspicious.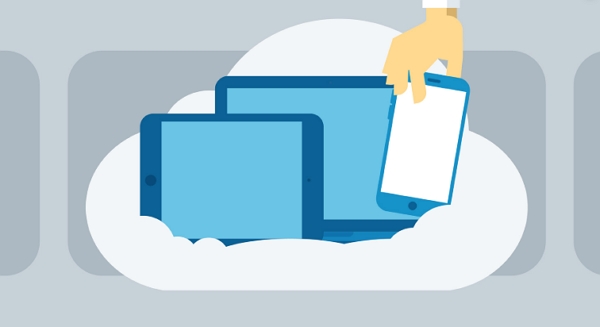 6 Different iPhone Spy Apps without Jailbreak
After understanding how iPhone spying app works, let's check the list of top 6 apps for iPhone that does not require jailbreak during the installation and daily use.
Our first pick for this list is KidsGuard Pro. It is a reliable and globally acknowledged app that is trusted by millions of users. You can have full access to the target phone remotely, and the best thing is that you don't need to get your hands on the device at the risk of being discovered. It offers an array of amazing monitoring features. There is only the no-jailbreak edition provided by KidsGuard Pro.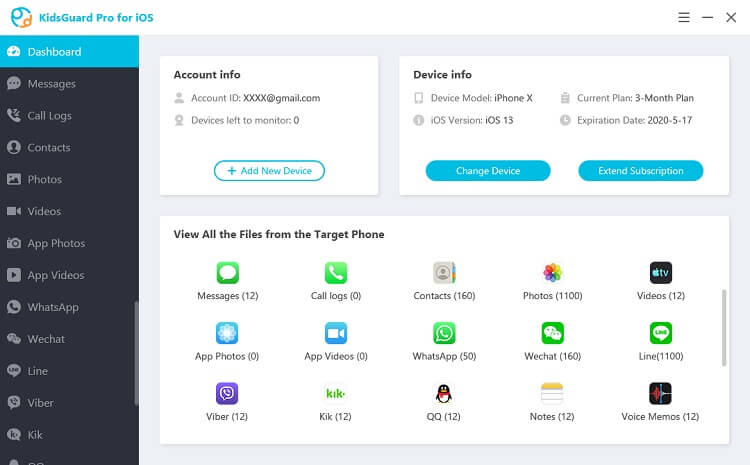 KidsGuard Pro gives you access to the messages, photos, videos, notes & attachments, reminders, etc of someone's iPhone.

You can monitor social media apps on the phone, including WhatsApp, LINE, Kik, Viber and more.

This method is untraceable. Your target will never know they are spied on. This app is web-based so you can track online.

You don't need any technical knowledge to set it up and use it. It doesn't involve the steps like jailbreaking.

This app works well on iOS 14 iPhone 11, iPhone 11 Pro (Max) devices.

You will get professional and multilingual customer support 24/7.
2. mSpy
mSpy is one of the widely used and critically acclaimed spy apps for iPhone that you can use without jailbreak if knowing the iCloud account. The app works very efficiently and great for device monitoring. You can find both jailbreak and no-jailbreak packages when purchasing. As we've said earlier, the jailbreak version will offer your more features.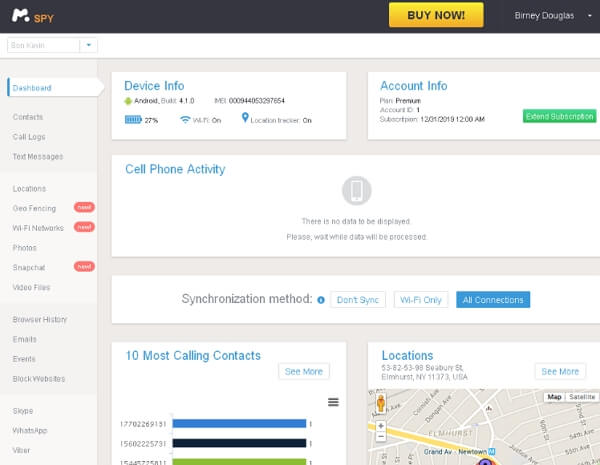 The app allows you to check contacts, call logs on the control panel.

You can read all sent and received text messages.

You can view browser history, notes, installed apps, and Wi-Fi networks.

For social media monitoring, this app currently only supports WhatsApp.
3. XNSpy
Another pick for this list is XNSpy. This is an effective spy app for iPhone without jailbreakin general. It is equipped with complete iCloud access capability that lets you monitor the device without notifying the user of the target device. It doesn't require a manual installation or jailbreak, either. You can also find a jailbroken verison in their website.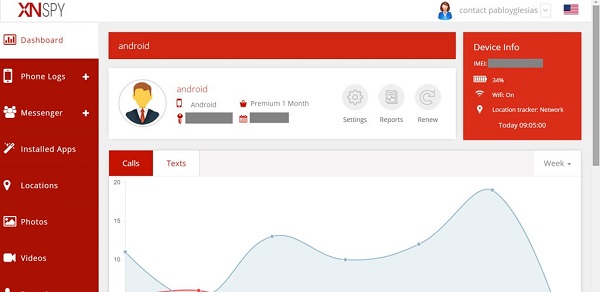 View the call logs and text messages.

View all the photos stored on the target iPhone.

Read the sent and received emails.

Check the calendar activities, bookmarks, and contacts.

To monitor apps like WhatsApp, Viber, Skype, you need to choose XNSpy jailbreak edition.
4. Highster Mobile
Another excellent addition to spy iPhone without jailbreak is Highster Mobile. It is considered one of the potent parental monitoring applications for iOS devices. The app is available for majority iPhones and equipped with advanced features. Still, you need to get the target Apple ID and password for spying on iPhone without jailbreaking it.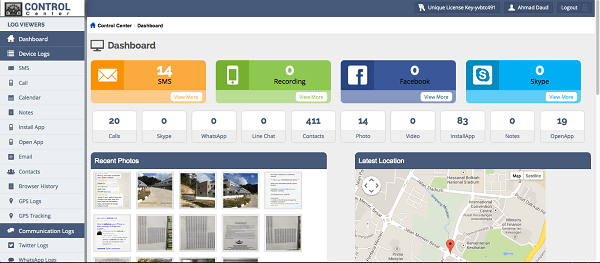 Spy on all the text messages sent and received.

Get to know the contacts, calls, notes and more.

Access the media files like photos and videos.

Check browsing history in details.
5. iKeymonitor
iKeymonitor includes both jailbreak and no-jailbreak editions for your choice. Even though the later one has some limitations, you can use it to check most of the data on the iPhone you want to monitor. This app also offers a free iPhone spy trial. You can have a test to see if this app exactly works like it advertised.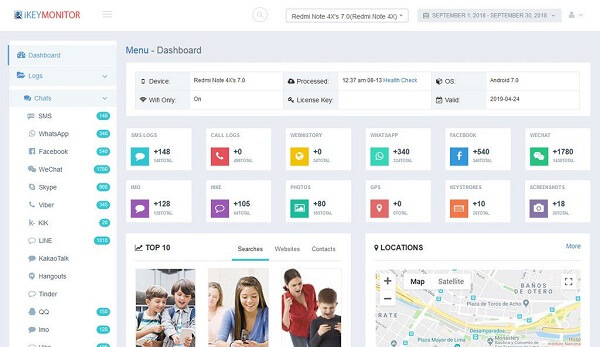 Track SMS messages on the target iPhone.

Check call history and contact list.

Geo-fencing feature is provided.

Monitor calendars, notes, reminders, photos, videos
MoniMaster iOS is capable of iPhone monitoring without jailbreak. This is an amazing application and is available for Windows and Mac. After downloading, you can start monitoring remotely, or scan the iTunes backup and check the files. It's incredibly wide range of features sets it apart from the rest of the similar applications. What's more, these features will truly work like it advertised.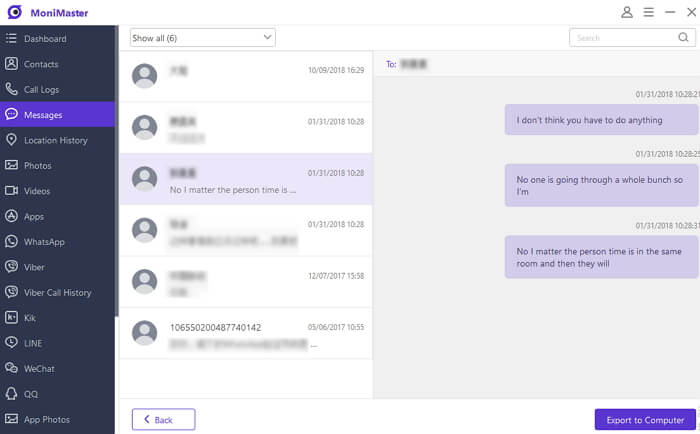 The whole process does not require jailbreaking or the access of target device.

Monitor contacts, messages, call logs, etc. of the target phone.

Advanced social media monitoring, including WhatsApp, Viber, Kik, Line, Wechat and more.

Unlimited access to photos, videos, browser history, memos, memos and other files.
Only 3 Steps to Spy on iPhone without Jailbreak
All you have to do is getting a good spy app, and then you can start monitoring remotely from the online control panel. But not every app mentioned above ar e simple and effective for users. So, we took the privilege of testing out quite a few applications but in the end, KidsGuard Pro came to be our final choice. It works the best for iPhone spy without jailbreaking, and the operations are quite easy to follow. So, without further ado let's have a look at the operating procedure of KidsGuard Pro.
Step 1: Create a KidsGuard Pro account with a valid email and then get an iOS license.
Step 2: Download and install the application on the computer/laptop. Then connect the iPhone to the same computer using the original USB cable. Once the device is detected, simply navigate to next step.

Step 3: It will start to analyze and scan the backup data, then you can click "Call Logs" in the left panel and will see a list of call history logs even deleted on the target device. You can also select the option "Export" to save them on your device for later viewing.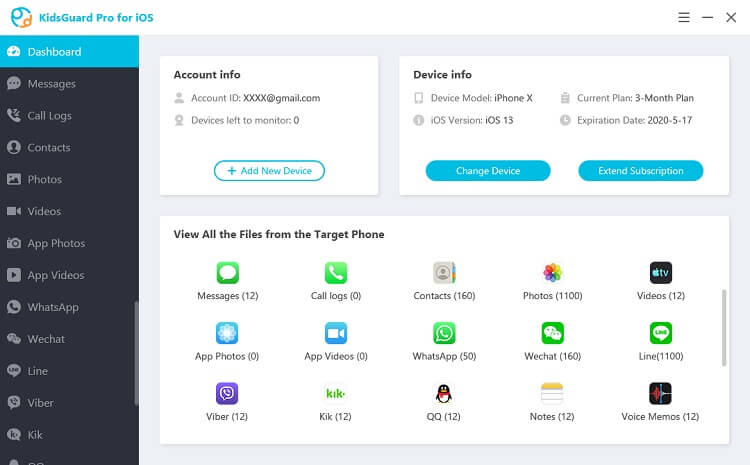 There are only a handful of applications available that are capable of spying on iPhone without jailbreaking and we selected the best of them for our top 6 list. But our top pick is obviously KidsGuard Pro and we highly recommend it. If you are also looking for a similar application for Android mobiles, this app can do the job as well.