With the evolution of technology, there are several new developments in the digital world. Tinder is one such development which is fairly new in the online world. This dating app is being used by almost everyone who wants to contact a potential love interest. However, once you are in a relationship you would not want your partner to still be on this dating app. If you doubt that your partner is still on Tinder finding prospective partners, it would cause a lot of unrest. In order to calm down your thoughts, it would be best if you can hack into their Tinder profile to find out what's going on. There are a few easy Tinder hack methods which are described below which you can use for this purpose.
When Is Hacking Tinder Useful?
There are basically two main reasons wherein you may try finding ways to know how to hack Tinder account. Each of these two cases is discussed in detail below.
1. Find your spouse is on Tinder and want to know what he/she is chatting with
You suddenly find that your spouse or partner is on Tinder through sources. What would you do? Surely your mind would get flooded with thoughts that why is he/she on Tinder despite being in a relationship with you. Of course it's a pretty depressing thought and you would want to get rid of it. Also, it may be possible that your partner has subscribed for the dating app much before getting into a relationship with you and no longer uses it. The only way in which you can know for sure is by knowing how to hack Tinder account. This way you will get a clear picture of what your spouse is upto on Tinder.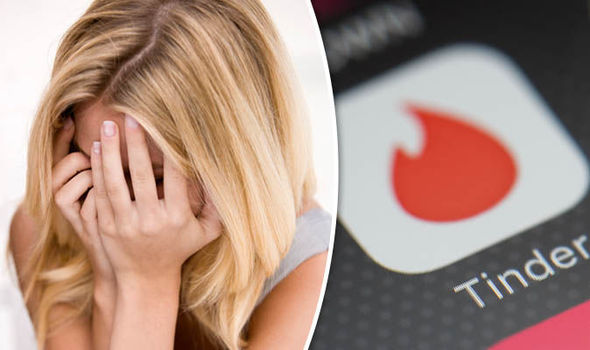 2. Parents want to protect the underage child
Tinder has a specific rule that the users need to be 18 years of age or more in order to access it. There is a specific reason why this rule is kept. However, with the growing popularity of this dating app, there are many teenagers as well who are logged onto this app. Tinder in no ways is suitable for teenagers below the age of 18 years. They may not even know how to use this app properly and may even land in a dangerous scenario. Since there are so many strangers lurking on such apps, if your teenager accepts going on a date with them, they may potentially be harmed. In order to avoid such risks, it is better that parents of underage children monitor their child's cell phone activities and perform Tinder plus hack if they suspect that there is something fishy going on which puts your child's safety at risk.
How to Hack Tinder within 3 Steps
The best and the easiest way to hack into anybody's Tinder account is by using a third-party tool like KidsGuard Pro. This app comes with a lot of amazing features which allows you to monitor everything on the target phone including their activity on Tinder. With the help of this app you can monitor Tinder messages as well as notifications, and through which you can know what the target user has been upto on this app.
How KidsGuard Pro can be useful to hack into Tinder
1. Check the chat history
The chat history can be checked on the Tinder account on the target cell phone by using KidsGuard Pro. This app has an inbuilt keylogger function which makes this possible. Through this feature, all keystrokes typed on Tinder would be recorded and you can check all the content which is being sent by the user.
2. Read Tinder notifications
KidsGuard Pro can also intercept the notifications on Tinder installed on the target phone. This can be pretty useful as through this Tinder hack see who likes you and you can also access the incoming messages as well.
3. Screenshot on Tinder
If the target device is connected to a stable Wi-Fi connection, a remote screenshot will be taken automatically every few minutes to show you what the target user doing on Tinder. This way, you can check the current screen and know who they are talking to, which profile are they looking at, etc. Don't worry about the possibility of being discovered as the screenshots will also be automatically deleted from the target device after being uploaded on the app's online dashboard.
Steps to use KidsGuard Pro to hack into Tinder
Let's check how to hack someone's Tinder by following the steps below. The whole process is quite simple, and it takes less than 5 minutes to get all the job done.
Step 1. Using a valid email ID, create an account for KidsGuard Pro. Then purchase this app.
Step 2. On the target device, download KidsGuard Pro from www.clevguard.net. Then install it and make the necessary configurational changes in the settings on the target phone. You will find a detailed set up wizard on the app screen.

Step 3. After the successful installation, the app icon will disappear from the target device to avoid being discovered. Now sign in KidsGuard Pro official website and go to its dashboard from another device. Select Tinder from the left panel to check the messages and view screenshots.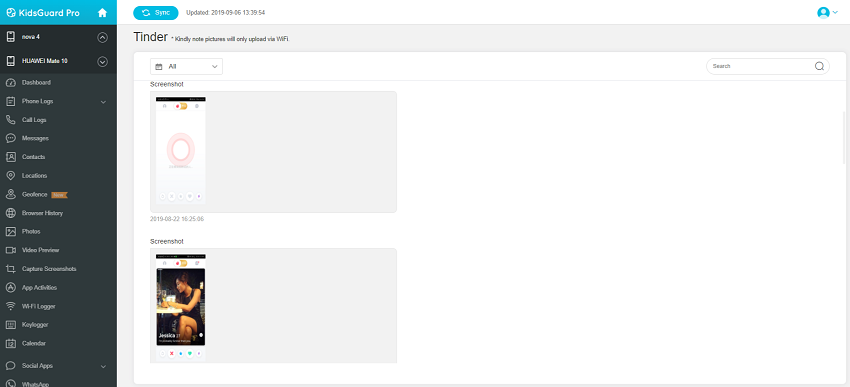 By knowing how to hack Tinder app using KidsGuard Pro, you will get informed about all the Tinder activities on the target phone. There are several other powerful you can get from KidsGuard Pro as well, like ream-time location tracking, calls and messages tracking, popular social media apps monitoring and more.
Commonly Asked Questions about Using KidsGuard Pro
1. Is it possible that the target device user may get to know that I'm monitoring their activity on Tinder?
No, because once installed, the app becomes incognito on the target phone. Also, the app gets renamed after being installed on the target phone, so the target phone user would not even be able to search for the app.
2. Are there any prior requirements which need to be met to use this app?
You would need to access the target device at least once in order to install this app and monitor the activities on Tinder. If the phone is locked with a passcode, pin or pattern you would need to know that as well.
3. Does KidsGuard Pro offer a free trial?
KidsGuard Pro does not offer a free trial. However, there is an online demo through which you can get an idea about the functionality of the app.
Conclusion
Although the social media apps have been pretty useful for many, there are certain scenarios wherein they prove to be disastrous. Such cases have been clearly explained above. If you ever land in a situation wherein you need to monitor the activity of someone on popular social media platforms like Tinder, and are finding ways to know how to hack someone's Tinder account, you can make use of KidsGuard Pro. It is a highly recommended app due to its effectiveness and supreme performance.