Have you ever felt the need to know about what's happening in someone's device and wondered about how to hack Android phone using another Android phone? It is definitely possible if you know the right method.
Basically there are two ways in which you can hack Android phone using another. One is by using some third-party spying apps and the other is by using remote screen sharing apps. However, the latter method of hacking into an Android phone is not recommended due to the following reasons.
The target device user would easily get to know the presence of such an app as these apps do not stay hidden on the target device. The process of screen sharing will not be a discrete operation when such an app is used.

You would not have the control to decide what you can access on the target device. You can just monitor the screen of the target device and the other content which is made accessible to you completely depends on the target device user.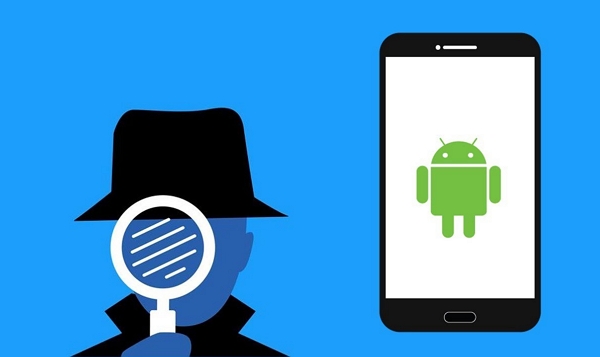 This is why using a third-party spy app like KidsGuard Pro is a better option in such a case. This article will discuss how such spying apps can be useful for hacking into an Android phone and accessing the content stored on it.
3 Apps Are Recommended to Hack Android Phone Using Another Android Phone
Wondering can someone hack your phone? Well, yes your phone can be hacked easily. As you can see from the above discussion, using a cell phone spying app is always a better option to hack into an Android phone. After testing several Android phone spying apps, we bring you the top three apps which are better than the rest of the available apps. Although these apps are not possible to solve how to hack someone's phone camera with another phone, you can use they to get access to the target phone data easily. Each of these apps is discussed in detail below. Have a look.
1. Use KidsGuard Pro to Hack Android Phone from Another
KidsGuard Pro is an excellent cell phone spying app which can be used to know how to hack text messages from another phone and also monitor all the other data stored in it. You just have to access the target device once to install this app, after which you can remotely spy on the target device without being discovered.
This app can be used to check the incoming as well as outgoing calls and messages on the target device. Other than this, this app lets you view the photos, videos, contacts, calendar etc on the target device. You can even track the real-time location of the target device through this app. Popular social media apps like Facebook, Snapchat, WhatsApp, etc, can be monitored too.
All this information gets displayed on the online dashboard of this app, which can be accessed through any device including your Android phone, iPhone, Windows or Mac computer.
Steps of How to Download/Install and Setup KidsGuard Pro
Step 1: From KidsGuard Pro official website, register an account using your email ID and finish the purchase process. After that, get hold of the target device and download KidsGuard Pro app from www.clevguard.net.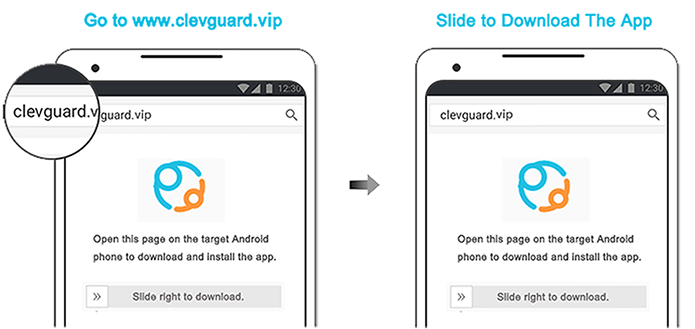 Step 2: Log into the app and follow the detail instructions on the screen to make some changes in the settings of the target device.

Step 3: Now after you walk through the whole installation process, the app should disappear from the target device and start working in stealth mode. To view the activities and data on the target device, you just need to use any other devices like your Android phone to visit KidsGuard Pro site again and log in to your account to access the online dashboard.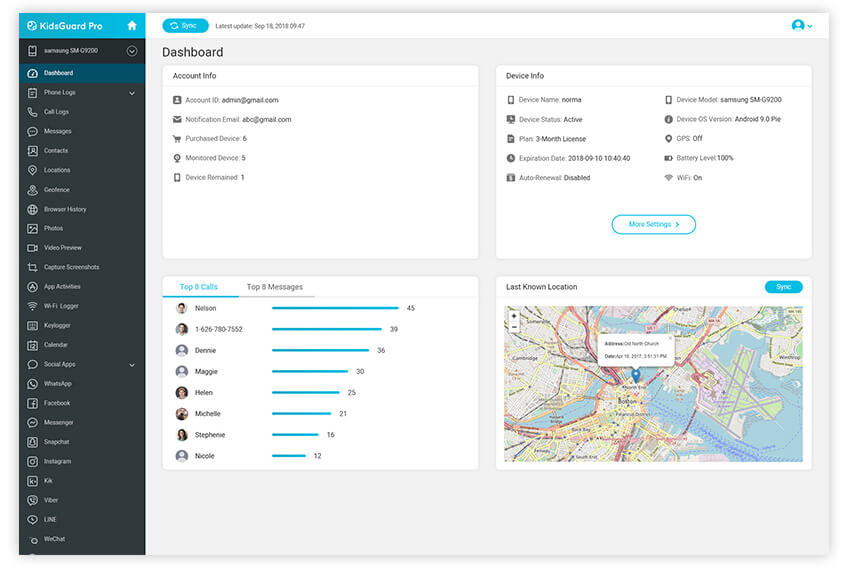 With just 3 easy and simple steps you can install the app and start monitoring all the activities on the target Android cell phone easily. Below we will also share 2 apps that can help you know how to hack other phones. But honestly speaking, KidsGuard Pro is the most cost-effective option you can go for.
2. Use FlexiSPY to Hack Someone's Android Phone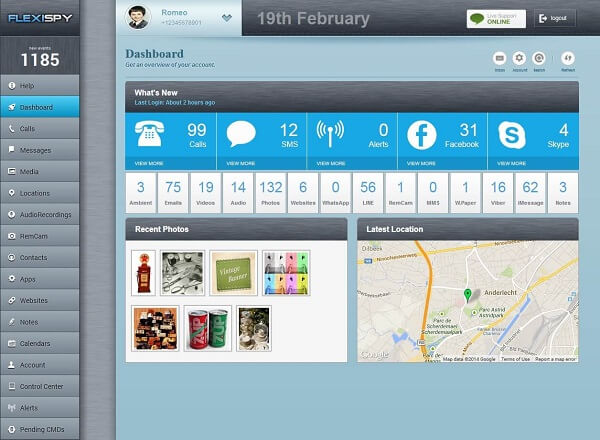 FlexiSPY is one of the most powerful phone monitoring apps which can be used to hack into an Android device to view the activities on it. This app is very easy to install and use, but in order to use this app, you would have to root your Android device. Except for Android devices, this app can also be used for iOS devices, Mac systems as well as Windows PCs. The official website of this app also features a live demo which makes it possible to try the product first befiore making the purchase decision.
This app has the unique feature of allowing you to even record the phone calls and the surroundings of the target device. Popular social media apps like Hangout, Facebook, LINE, WhatsApp, Snapchat, etc, can also be tracked with the help of this app. It's also possible for you to check the messages, call logs, videos, photos, audio files, and others files on the target device. Besides, the real-time location tracking feature is also made available to you by this app.
3. Use MoniMaster to Hack A Phone from Another Phone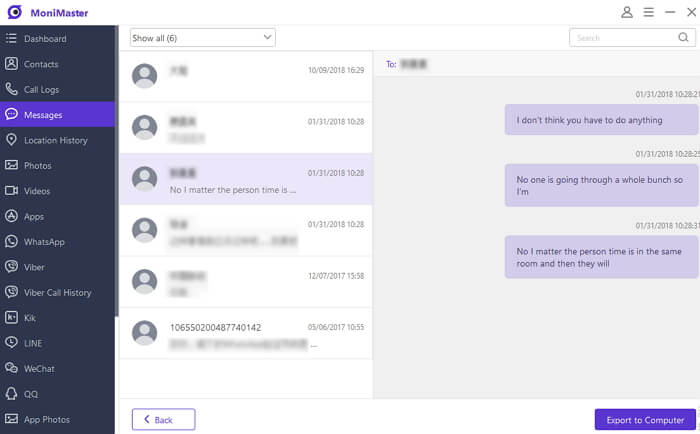 MoniMaster is basically a parental monitoring app which also can be used to hack into an Android device from another one and monitor the activities. This app can be great for those parents who are worried about their kids being addicted to their phones. It is also very useful in helping parents keep their kids safe online.
The phone logs, messages, browser history, photos, videos, etc, which are stored on the target device can be checked by you with the help of this app. You can even take an instant screenshot on the target device to know the current activity on it. Individual app activities can also be monitored. With the keylogger function, every keystroke made on the target device gets recorded. Real-time location of the device can also be tracked. The social media apps which are currently trending like WhatsApp, LINE, Kik, Viber, etc, can be checked for any suspicious activity. Similar to above apps, it's online monitor console can be accessed from any other devices like Android, iPhone or computers.
Comparisons of the 3 Spy Apps for Android
Here we have compared 3 apps metioned above to help you better understand how to hack a phone from another phone efficiently. From the table you can find out KidsGuard Pro is the best option. It doesn't require you rooting the Android devices, and the price is quite competitive.
App
KidsGuard Pro
FlexiSPY
MoniMaster
Price
- $29.95 for one month
- $49.95 for 3 months
- $99.95 for 1 year
- Premium at $68 for one month,$99 for 3 months and $149 for 1 year
- Extreme at $199 for 3 months and $349 for 1 year
- Basic version at $29.95 for one month, $59.95 for 3 months and $99.95 for 1 year
- Family version at $49.95 for one month, $99.95 for 3 months and $199.95 for 1 year
Customer Support
- 24/7 for 365 days
- Support in multiple languages
- Live chat and email
- Live chat and email
- Customer support only in English
Email
Root
Not required
Root is necessary
Not required
Ease of Use
Safety
100% secure
- Not 100% safe since the device needs to be rooted.
- A part of the installation is done remotely by technicians.
Secure
Time for Installation
3-5 minutes
5-60 minutes
5-10 minutes