Sometimes, it is necessary for business owners or parents to track and monitor their employees or kids' computers. By keeping an eye on someone's computer, you can find out what the user did on their PC. On the Internet, there is various kind of Windows spy softwares for parents and employers. And we will enlist a few of the best of them that are being widely used by individuals and organizations around the world. Then you can choose the one that you need from the list to spy on any computer.
Know More about Windows Spy Software First
It is important to make sure that you understand what computer spy software is, what it can be used for and other basic information.
What does Windows spy software do?
Windows spy software is a tool that allows you to view and record the activities that users perform on the computer.
What is Windows spy software used for?
Windows spy software is mostly used by businesses and parents to keep tabs on their employees and children respectively. 
For Businesses: Businesses regularly use computer spy softwares for a variety of reasons. The main one is to make sure that they can establish responsibility for legal or ethical matters if issues do arise. It can also be used to determine which employees are going above and beyond in their jobs and can thus be rewarded for their efforts.
For Parents: PC spy software can also be used by parents who know the dangers and threats that the internet possesses and can thus make sure that their child isn't in any danger when browsing the internet. The software can be used to track what websites your child is accessing and you can even impose parental restrictions on certain things that you feel are inappropriate or mature for your child.
Top 8 Windows Spy Software
Here are our top picks for computer spy software coupled with their features, their pros and cons, as well as what their prices are.

MoniVisor for Win is an invisible PC monitoring software that can be used by both employers and parents to make sure that everything stays on the up and up. The software provides a long list of  monitoring features as a Windows 10 spy tool. And it is the most recommended one in our list. Keep on reading and find out the reasons for that.
1.1 Features of MoniVisor for Win
Remotely monitor chats that take place on web-based social media platforms.

View browsing and download history on all the popular browsers.

Read the emails that were sent or received using popular web-based email applications.

Take automatic screenshot times that will allow the program to take a picture of the screen at the time/time-intervals that you choose.

Keep track of app activities, login activities and USB connections from the monitored desktop computer.
1.2 Pros & Cons of MoniVisor for Win
Pros

Offer much more functionality than other computer spy softwares.

Perform activities monitoring on the target computer.

Check the monitored data at anytime with an easy-to-access console.

You can easily get started with it in several simple steps.

Privacy and data protection is also offered by this tool.

You can always get free updates when new versions are available.
Cons

You will need to install the chrome web-extension if you want to monitor web e-mail and chat activity.
1.3 Pricing Plans of MoniVisor for Win
The monthly plan costs $49.95 per month, the three-month plan costs $79.95, and the yearly plan costs $129.95.
1.4 How Does MoniVisor for Win Look Like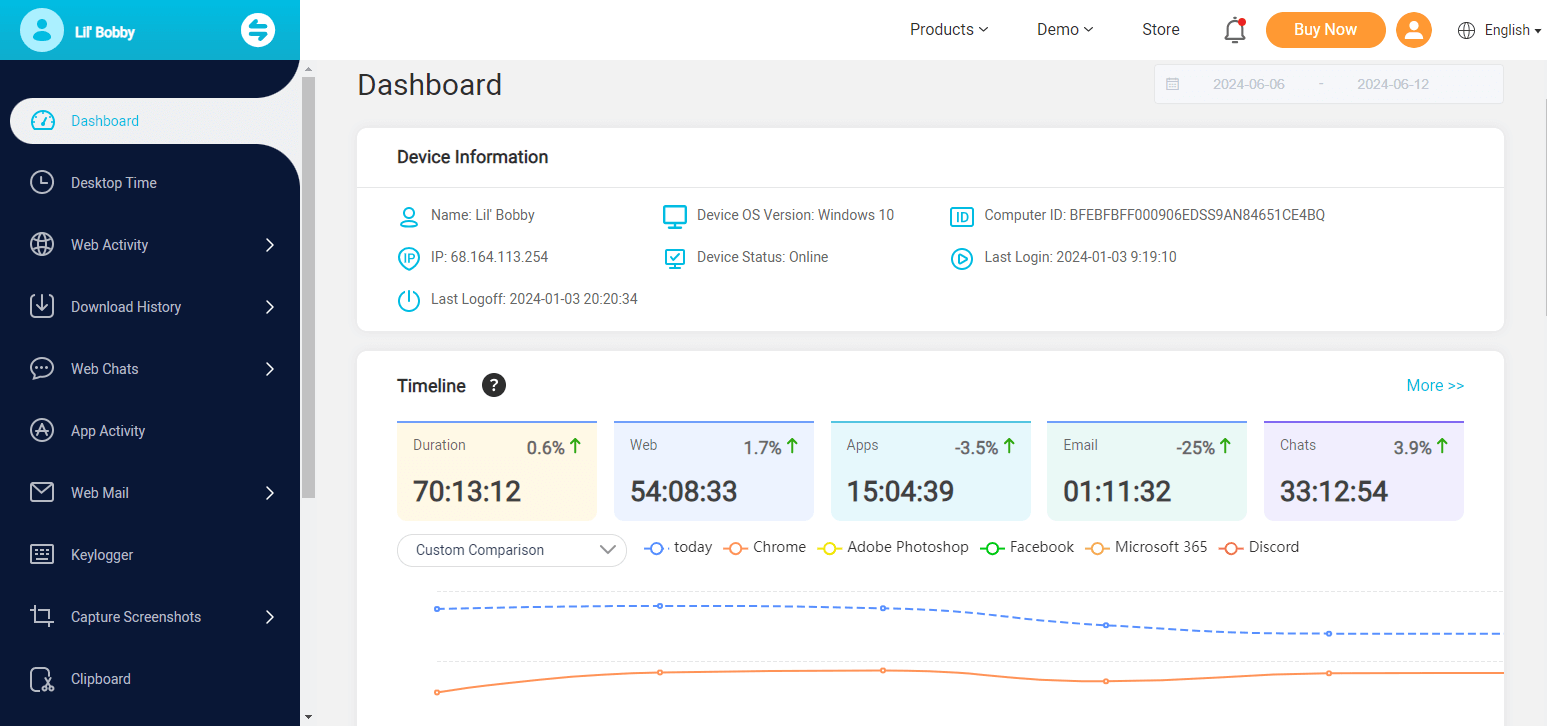 2. Flexispy
Flexispy is another computer spy software that you can utilize for your needs. This software also provides amazing computer monitoring features for employers and parents.
2.1 Features of Flexispy
Read all the emails on the target computer.

Track the browser activities like browsing or download history.

Monitor all keystrokes typed on the target computer.

View computer screenshots according to specific time-intervals.

Keep track of all the monitored computer's network connections.
Pros & Cons of Flexispy
Pros

It can safeguard your personal data.

You can view the monitored data with any computer browsers.

This computer monitoring software is compatible with Mac and PC.

24x7 customer support is available.
Cons

It's more expensive than many other PC spy softwares.
2.3 Pricing Plans of Flexispy
Flexispy Premium will cost you $67.99 for one month, $99 for three months, and $149 for a whole year.
2.4 How Does Flexispy Look Like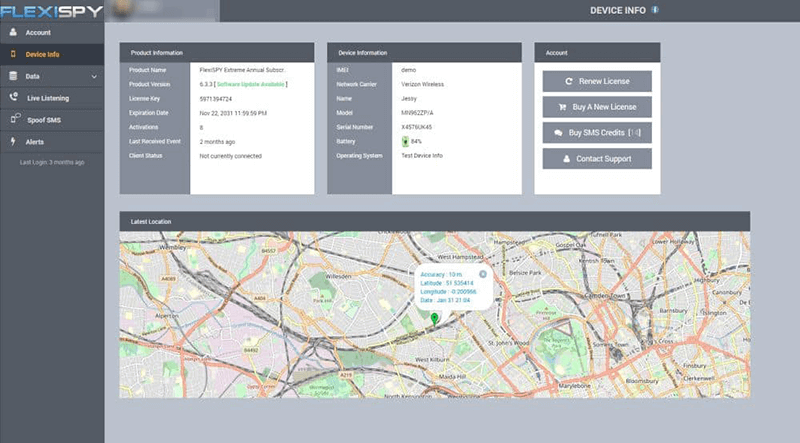 3. ActivTrack
ActivTrack is also a great Windows spy tool that has a lot of desktop features for businesses. It can track how your employees are doing in relation to their work and what they could be doing better.
3.1 Features of ActivTrack
You can capture screenshots remotely which is great in these times when so many people are working from home.

Allows you to keep sensitive information private with the in-built redaction tool.

Enables you to restrict access to certain websites.

Gives you the ability to monitor in real-time so you don't have to wait for results.

You can evaluate the employee performance based on monitoring reports.
3.2 Pros & Cons of ActivTrack
Pros

Gives you detailed statistics about usage.

Comes with a simple and clean interface.

Works flawlessly as a Windows spy tool.

Generates charts and infographics so that you can visualize the data that it collects.
Cons

It is complicated to set up.

It can not record the keystrokes on the target computer.
3.3 Pricing Plans of ActivTrack
This app can pass as a free Windows mobile spy software as there is a free trial available for use so that you can check out all of the features for yourself. After the trial ends you will have to pay $7.20 per month per user if you want to continue using the software.
3.4 How Does ActivTrack Look Like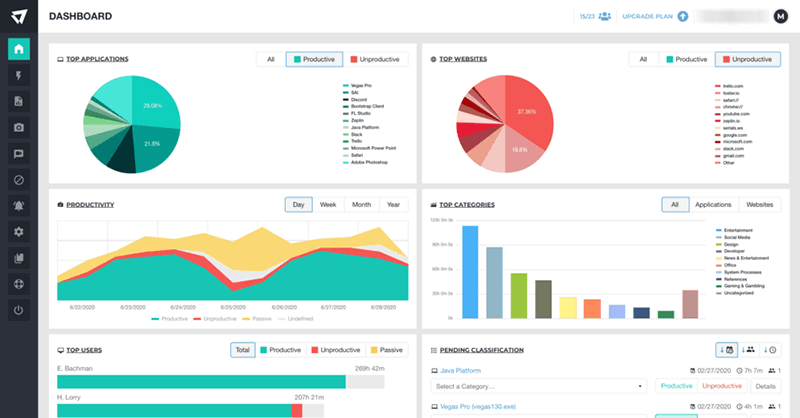 4. Kidlogger
Kidlogger is a very basic spy software that is useful for parents but not that useful for businesses. It allows you to monitor your kids' computer usage easily.
4.1 Features of Kidlogger
Keep track of the screen time of the target computer.

Track all the app activities perform on the computer.

Check the browsing history of the monitored PC.

Find out who they communicate with via web-based chats.

Monitor the keystrokes typed by the target user.
4.2 Pros & Cons of Kidlogger
Pros

The basic version of it is available for free.

It offers different versions with different features, so that you can choose the right one that fit you best.

The price of its paid version is more affordable.
Cons

Very basic in what it can do even as a computer spy software.

The customer support is not so good when using free verison.
4.3 Pricing Plans of Kidlogger
The basic version of the application is free but it can be upgraded to a premium subscription to unlock more functionality. The pricing for the standard subscription is $9 for three months, $17 for six months, $29 for a whole year.
4.4 How Does Kidlogger Look Like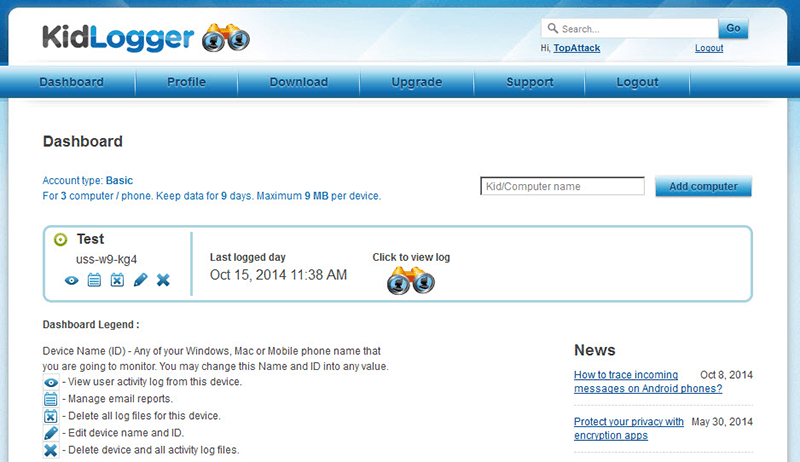 5. Kickidler
Kickidler is another one of the best computer spy tools that is mostly used by businesses to track their employees' performance. It has a very simplistic approach to monitoring which makes it easy to see where improvements can be made.
5.1 Features of Kickidler
It has no restrictions on the number of computers that it can operate on at any given time.

All of the setting configurations that it provides are useful and easy to understand.

Productivity analysis for your employees is offered by this software.
5.2 Pros & Cons of Kickidler
Pros

The UI of the software is simple and easy to use.

It has protection against data theft and leakage.

Produces productivity fluctuation reports that are useful for improving employee productivity.

A free version is available.
Cons

Doesn't allow you to monitor email activities on the target computer.

Doesn't allow you to check what the monitored computer has printed.
5.3 Pricing Plans of Kickidler
Kickidler will end up costing you $9.99 per month.
5.4 How Does Kickidler Look Like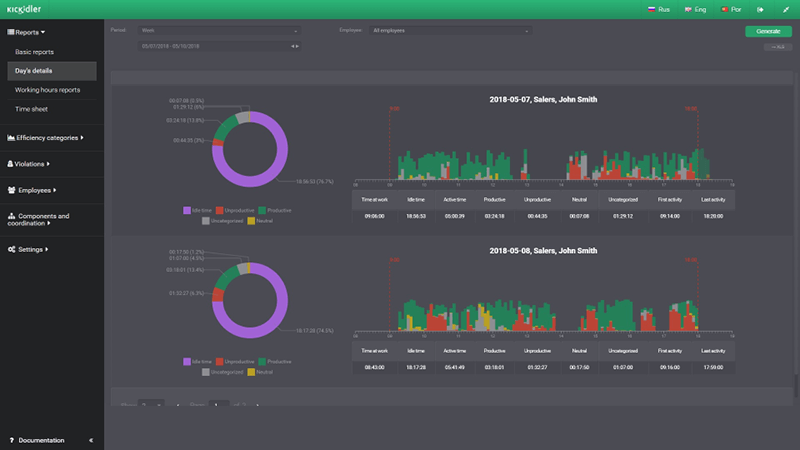 6. InterGuard
Interguard is an employee monitoring software that you can use to gain an insight into employee productivity, HR issues, and potential security threats.
6.1 Features of InterGuard
Useful for businesses that employ from home as well as in-office.

Uses a single admin computer as a base for all monitoring.

Allows you to monitor web-based usage.

It Is best used for companies that handle sensitive information.
6.2 Pros & Cons of InterGuard
Pros

It can be used with all form of operating software including virtual machines.

Generates detailed employee usage data.

It has a free trial..
Cons

It isn't as useful for parents that want to monitor their kids.

It is a little on the more expensive end.
6.3 Pricing Plans of InterGuard
Pricing starts at $9.00 per month per user so it is more expensive than most of the ones on this list.
6.4 How Does InterGuard Look Like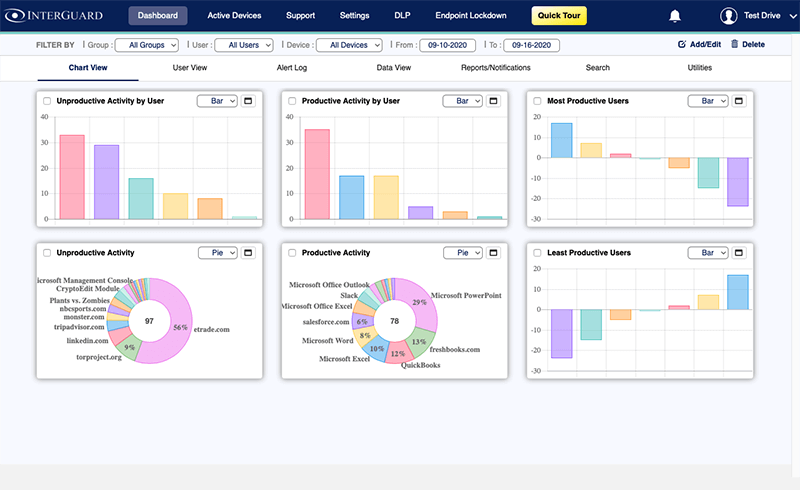 7. SpyAgent
SpyAgent is a decorated Windows 10 spy tool that has 15 different monitoring parameters that you can use in order to ensure that everything stays on the up and up.
7.1 Features of SpyAgent
Allows you to control what you want to monitor and what information you don't need to be monitored.

Its computer monitoring features is suitable for both parents and employers.

You can set limits on the monitoring so that you don't have to read through data that was processed in certain non-essential times.
7.2 Pros & Cons of SpyAgent
Pros

You can save and archive any monitored data that you want.

It can run in stealth mode, so your employees or child will not know that they are being monitored.

Has protection against data theft and piracy.
Cons

It can be a little complicated to use.

Their customer service has been reported to be sub-par.
7.3 Pricing Plans of SpyAgent
The software operates on selling the software instead of licensing it out. Therefore, it costs $69.95 per user.
7.4 How Does SpyAgent Look Like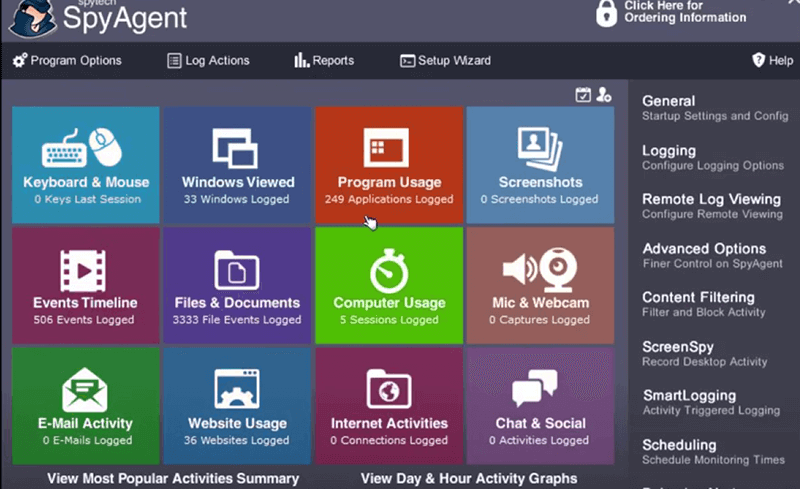 8. TheOneSpy
TheOneSpy is mainly a Windows spy software but it is also compatible with multiple OSs such as Mac and iOS.
8.1 Features of TheOneSpy
Record the screen activities on the monitored computer.

Track the browser activities on the target PC.

Supported to block specific websites.

All the monitored data on the target PC is automatically updated on its control panel.

Get reports of all computer activities.
8.2 Pros & Cons of TheOneSpy
Pros

Best used by parents that wish to monitor their children's computer activity.

keep an eye on your employees or kids without them knowing.
Cons

Doesn't have the ability to set Internet filters.

The complete set of features is only accessible from desktop PCs.

It isn't useful for employee monitoring and isn't the ideal choice for businesses.
8.3 Pricing Plans of TheOneSpy
Pricing plans of TheOneSpy are $40 per month, $60 for 3-month and $80 for one year.
8.4 How Does TheOneSpy Look Like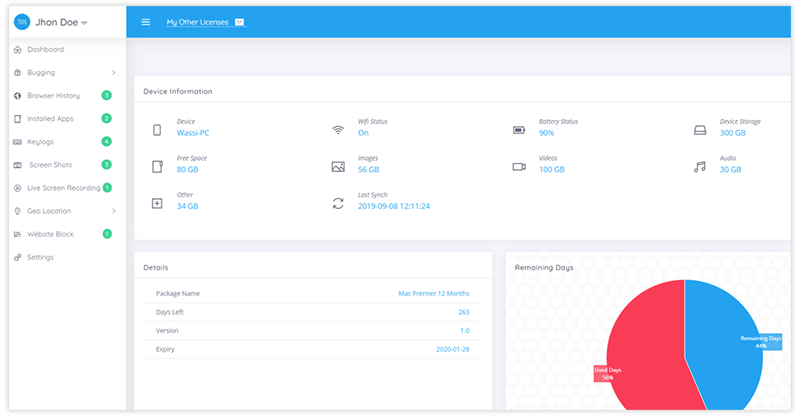 What is The Best Computer Monitoring Software
As you can see in the beginning, we have ranked MoniVisor for Win as the the best computer spy software. Actually, it is exactly our recommendation of the list. Below is what makes MoniVisor for Win the best spy software for Windows.
1. More computer monitoring features
Compared to other computer spy tool, MoniVisor for Win offers more Windows monitoring features, including social media chats, mails, keystrokes, screenshots, app activities and more.
2. It is virus-free and safe to use
MoniVisor for Win is completely virus-free, that means you can safely download and use it to monitor someone's computer.
3. More affordable price
MoniVisor for Win comes with three options of pricing plans so that you can choose the one that fits you best. Moreover, its price is relatively affordable, and you will find out it is value for money for what it offers when using it.
4. Easy to get started with
MoniVisor for Win provides clear and understandable instructions on the website about how to use it so that you can easily follow. Actually, this software is also simple to get started with. Below are the general steps about that.
Step 1. Sign up with a valid email and then purchase a pricing plan to activate computer monitoring features.
Step 2. Physically access the target computer and visit http://www.installfree.net to download the software.
Step 3. After installing successfully, you'll need to add a Chrome extension to monitor e-mail and web chats.
Step 4. Then you can login your account and have access to the web dashboard, where you can check all the computer activities here.
Or you can go to Guide Page about this software to get more details about how to use the software. Text and video instructions are both available for you.